About William and Shelby Aldrich
William
Growing up with a carpenter as a father, William has years of hands on experience in rejuvenating and building homes. He graduated from Carnegie Mellon University with a Bachelor's of Architecture, and is currently working with Chris Dawson Architect as he pursues his licensure. The oldest sibling of six, he was raised in a home of pure love, built by his father's own hands, and knows the beautiful challenge of making do with the space one has.
In November, 2022, William officially achieved his Certified Passive House Consultant (CPHC) accreditation through the Passive House Institute of the United States (PHIUS) and can act as the CPHC on Passive House projects!!

Shelby
Raised with a love of seeing new perspectives, Shelby has always been interested in understanding and helping the world around her. She spent her Junior year of High School living and learning in Ramnicu Valcea, Romania through Rotary Youth Exchange. She studied at Millersville University and Juniata College, spending a year in Volgograd, Russia and graduating with degrees in Russian Language and International Studies. She currently works in the teaching field and has a passion for writing (you can thank her for the eloquent journals on this site).
She also achieved her Living Future Accreditation in September, 2022, and can now act as the LFA Professional on Living Building Challenge project teams!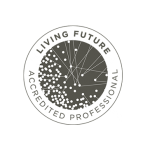 Us
Married in October of 2018, we are a couple who share a sense of adventure and a love of learning. We are eager to begin this insane endeavor, and we are just as eager to share it with you. However, if this blog and eventual YouTube channel result in being solely a chronicle of our ridiculous feats and of our attempts to move society towards sustainable living, and our grandchildren are thereby either amused or inspired, then this was a success. Although, if you learn something too, that makes us smile all the more.