Crazy House Drawings, Round One
Dear Readers,
One look at the "unfolding module diagram" or the "sketched section of folding roof" may result in some gawking, coffee-spitting, and perhaps even the closing of this blog. All understandable!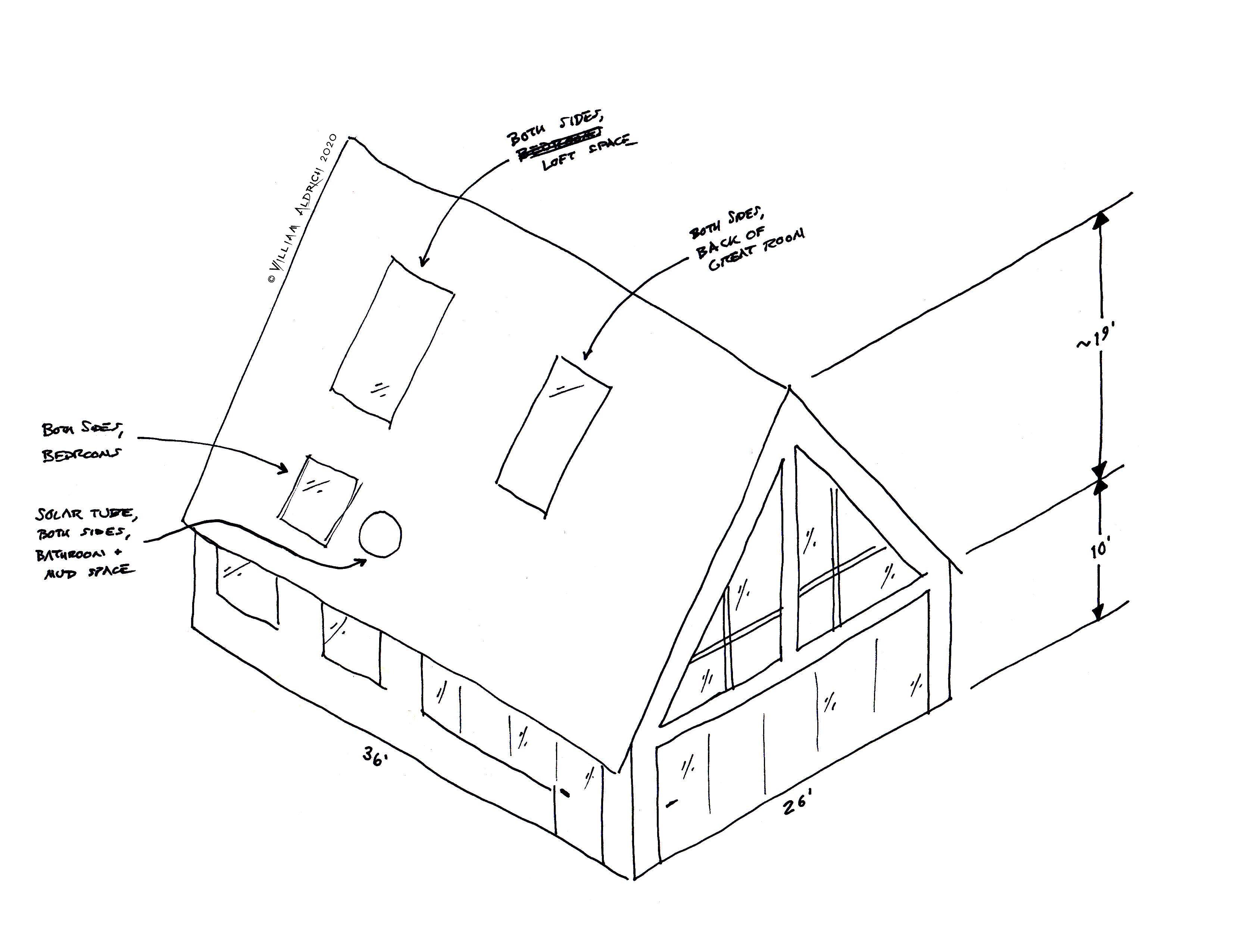 Axonometric Sketch of Home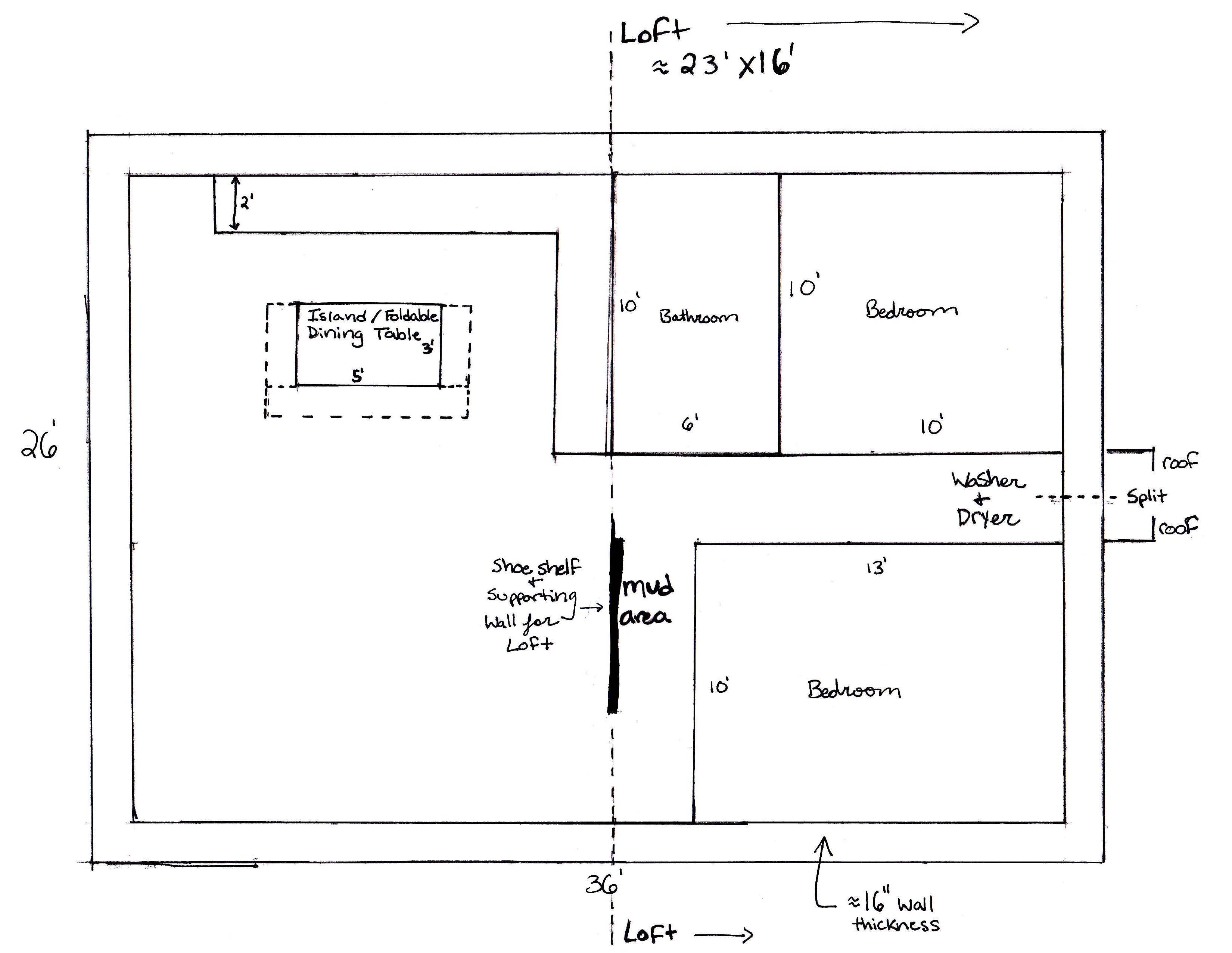 Preliminary First Floor Plan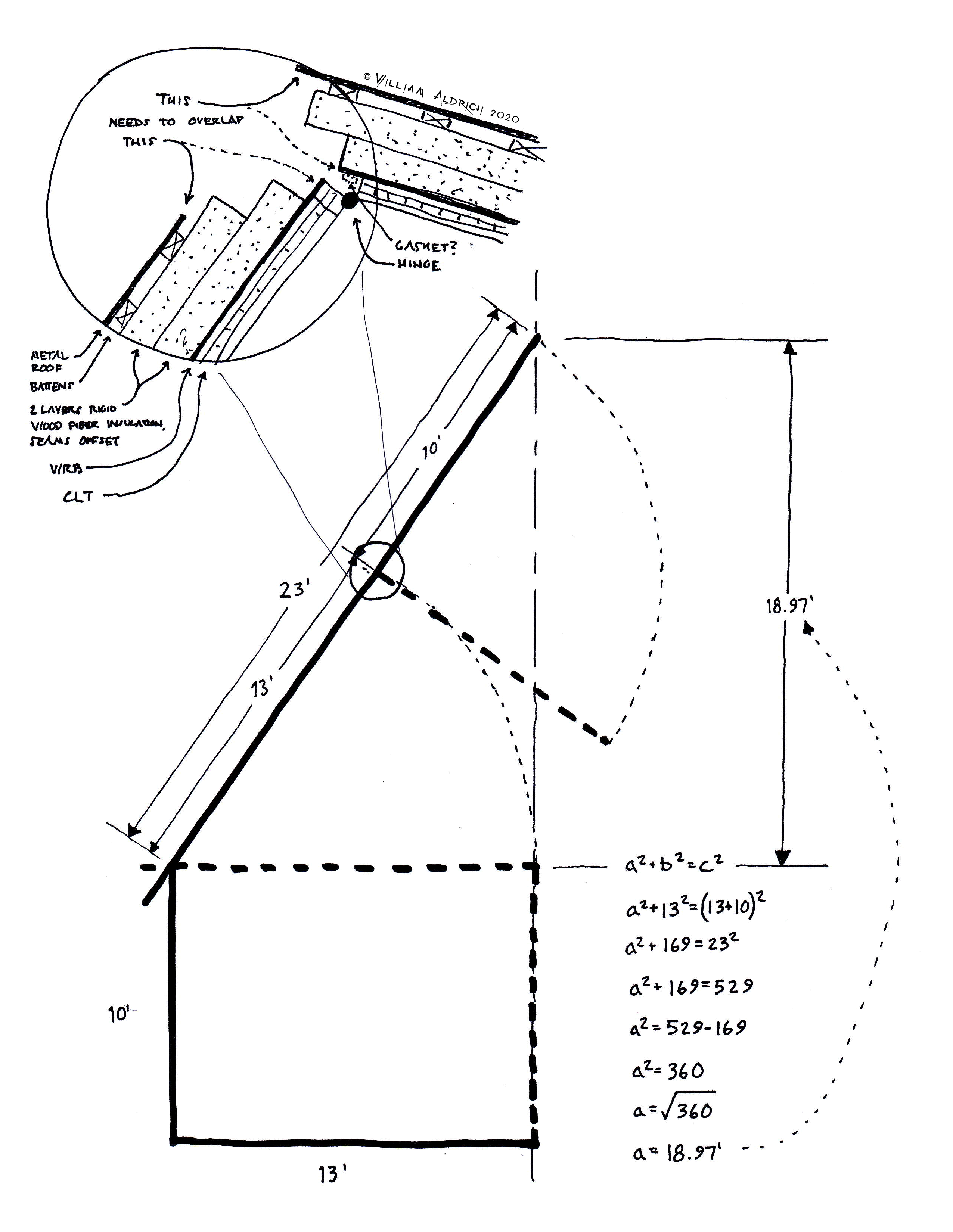 Sketched Section of Folding Roof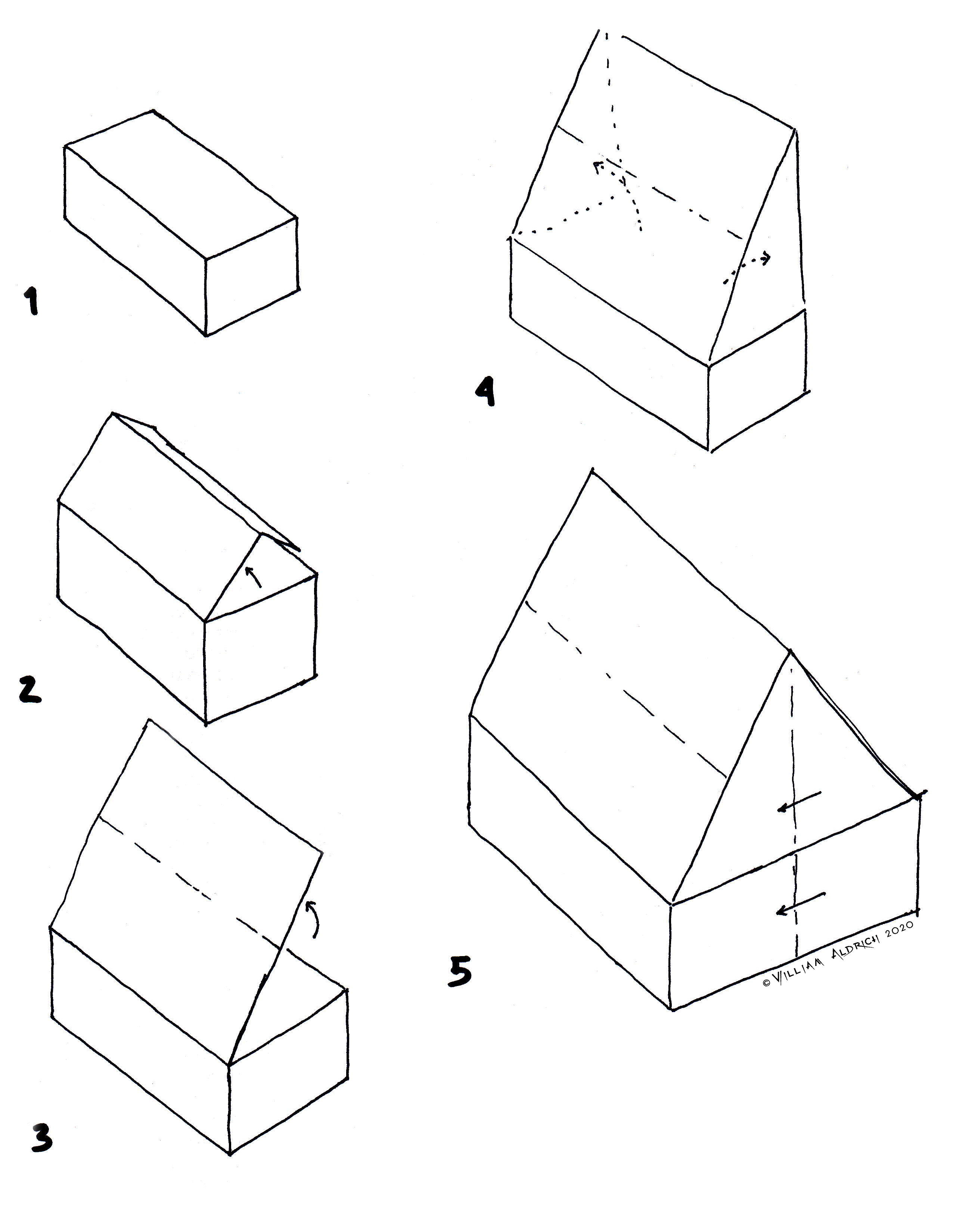 If you have, however, continued to read this blog despite the drool that dripped from your gapping, gawking mouth…and despite the coffee that is now splattered on your screen and maybe keyboard…thanks! We are crazy, we know. 
So, here is a quick, simplified explanation as to some of the gibberish we've got running around in our brains…
Axonometric Sketch of Home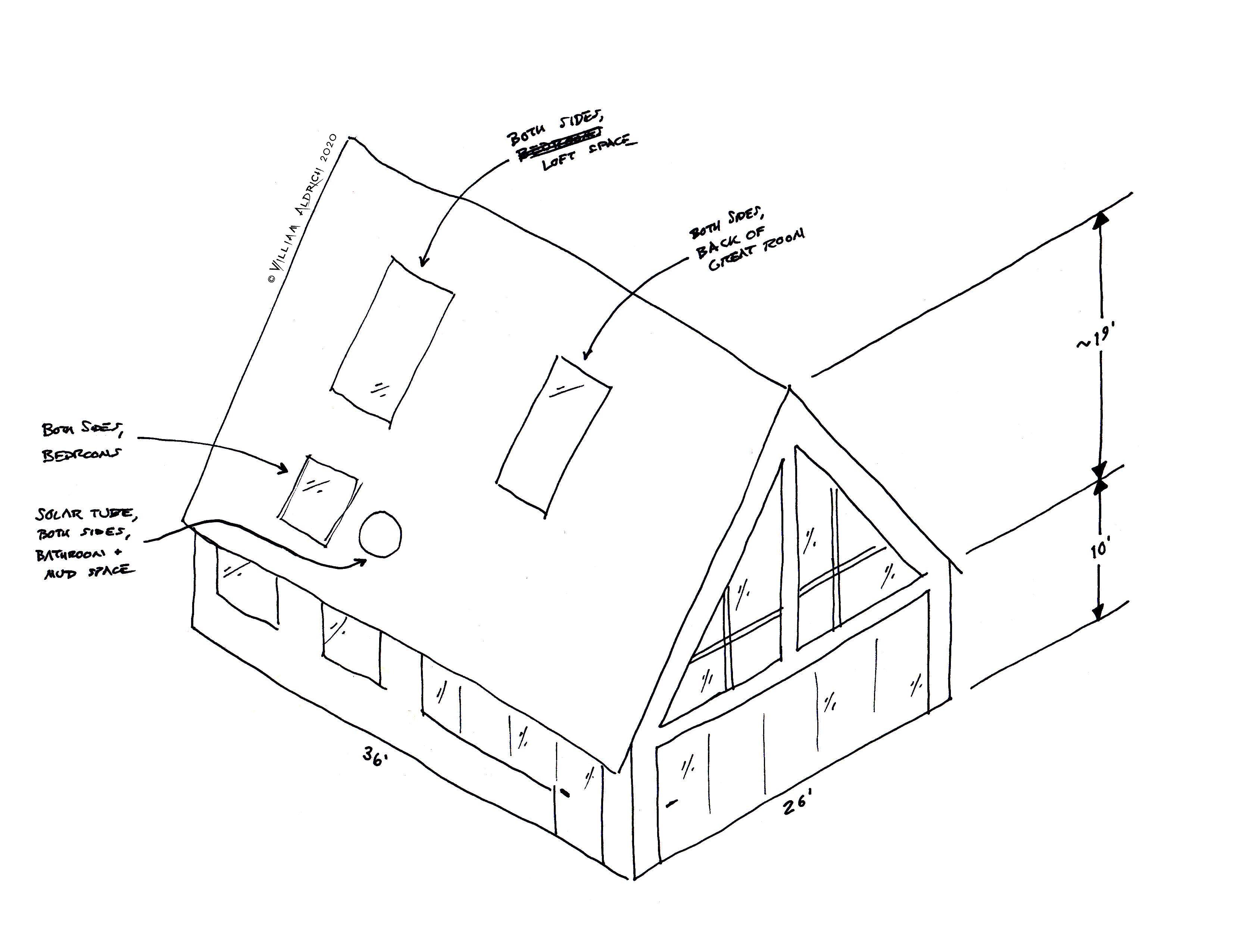 Axonometric Sketch of Home
Our home will by no means be a 'tiny' home, but it will be a rather small-ish home! It will be 36' long by 26' wide on its first floor. The loft space will be about 23' by 16' and go above only the bedroom, bathroom, and mudroom areas. The total square footage is estimated to be about 1,304 square feet. 
As you can see in the axonometric sketch (such a big word…) we really want to incorporate a high usage of windows…perhaps too many. But that fact is to be soon determined as we are also undergoing some cost analyses. All windows would have to have high R-values and be made by a Passive House certified window manufacturer- which also adds to the immediate price tag. 
The skylights would illuminate the loft space, bedrooms, and the back section of the 'great room' ('great room' just sounds so pompous…). We would use what are called 'solar tubes' to bring natural light into the bathroom and mudroom area. Solar tubes are neat in that they are literally a tube in which the entering sunlight bounces around before it fills the larger living space, thereby creating a more even distribution of light. 
Our home will be small. And depending on how many children we have, it is only going to get smaller. The 'window walls' you see at the front of the 'great room' are not stationary, allowing our small space to get larger. They can fold to allow the home to be made almost entirely open to the outdoors. The windows above the sink and kitchen area will also be foldable- thereby creating an open bar to the deck outside. A great example of how these guys work is to take a look at Zola's "BreezePanel Folding Walls" (William drools everytime he watches the video). 

Preliminary First Floor Plan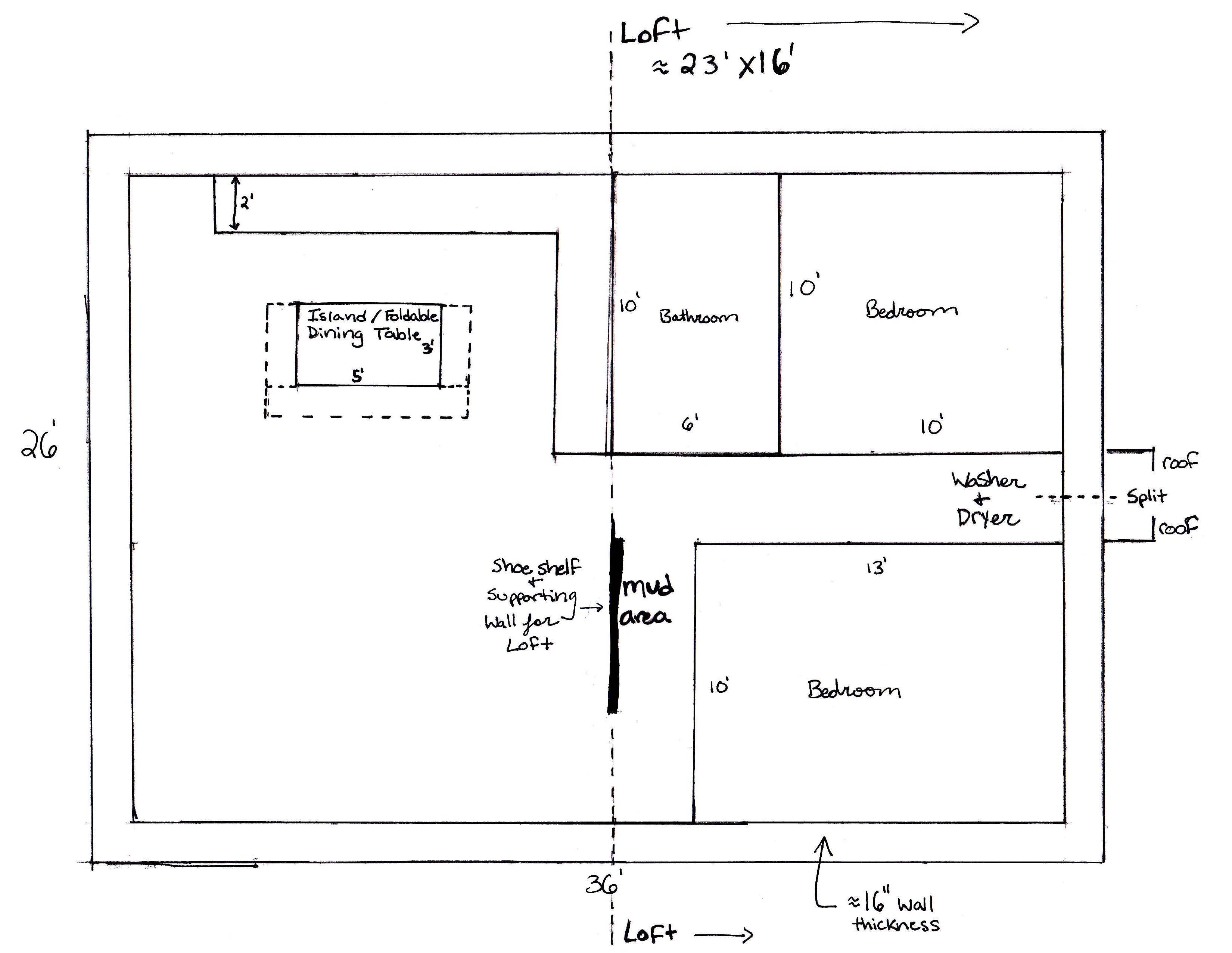 Preliminary First Floor Plan
Can you tell who drew that one? I'll give ya' a hint…not the architect! I admittedly made it a tad bit confusing by giving you, the viewer, the approximate thickness of the exterior walls, but not the interior…sorry. 
Oh, and there is no staircase drawn so to provide access to the loft space. Our children will have to learn how to levitate. 
Anyways, as you can see from my amateur floor plan, our home is going to have some thick exterior walls. The use of CLT and striving for Passive House standards does decrease some of our indoor living space. However, as I have realized through the years, I was certainly spoiled as a child with one crazy large bedroom. Our children won't be that spoiled. A 10' by 10' bedroom and loft area will do. It just [hopefully] means less things. 
Our bedroom will not be much bigger, measuring about 10' by 13'. Where the closets are going…not sure yet. All of this will call for an efficient use of our space. William already has some ideas… 
The bathroom will be a whopping 10' by 6', just across from our humble little mud area. The loft will cover all of these more 'intimate' living spaces, allowing the 'great room' to be, well, great. It will be one open space for our kitchen, living, and dining. The foldable walls will allow the living area to expand onto the decks. Oh! And that cool lil' folding table thing you see near the 2' depth kitchen counter?? That, my dear readers, will be our island and dining table. We'll see how that one works out…but you get the idea of space efficiency. 
Unfolding Module Diagram and Sketched Section of Folding Roof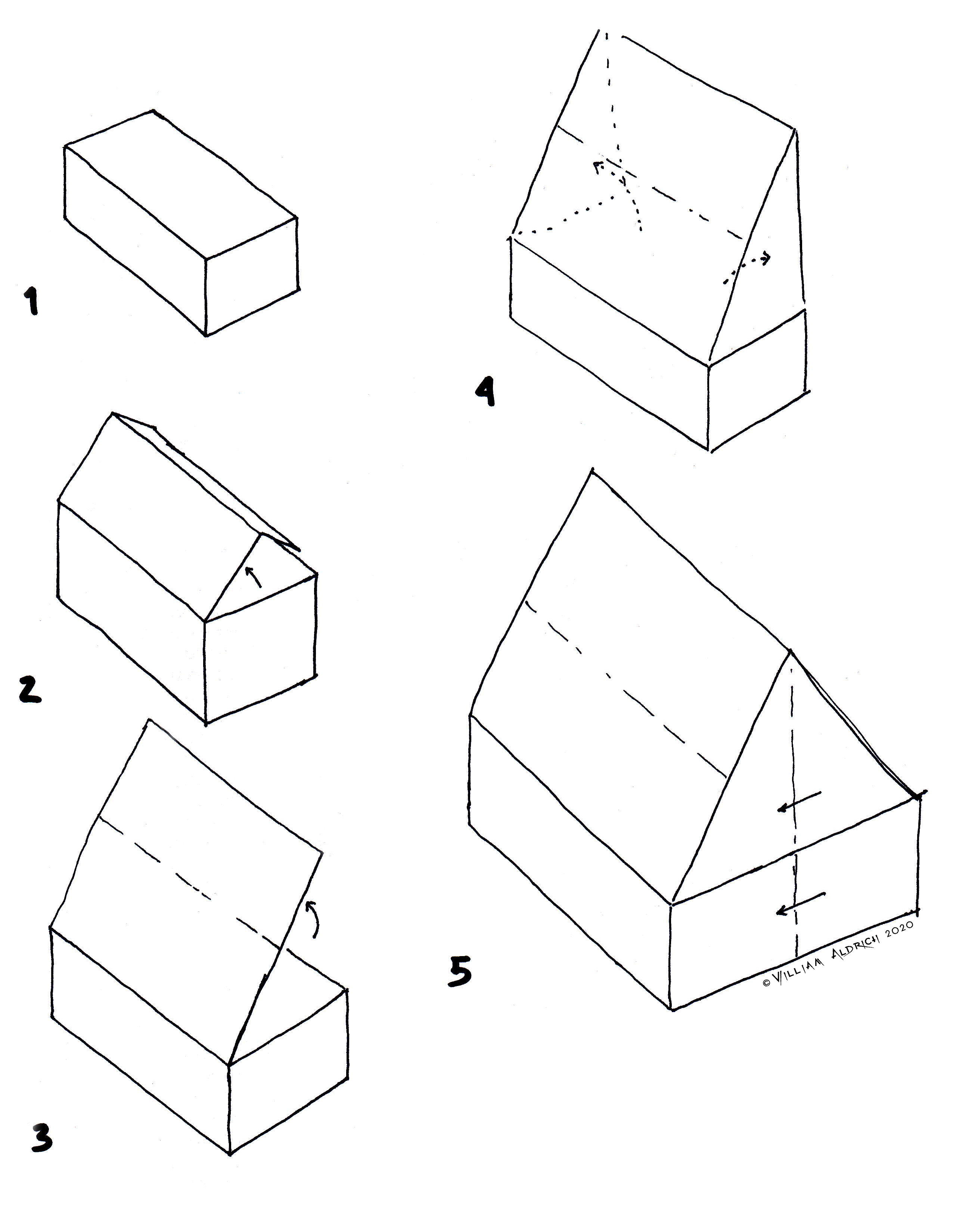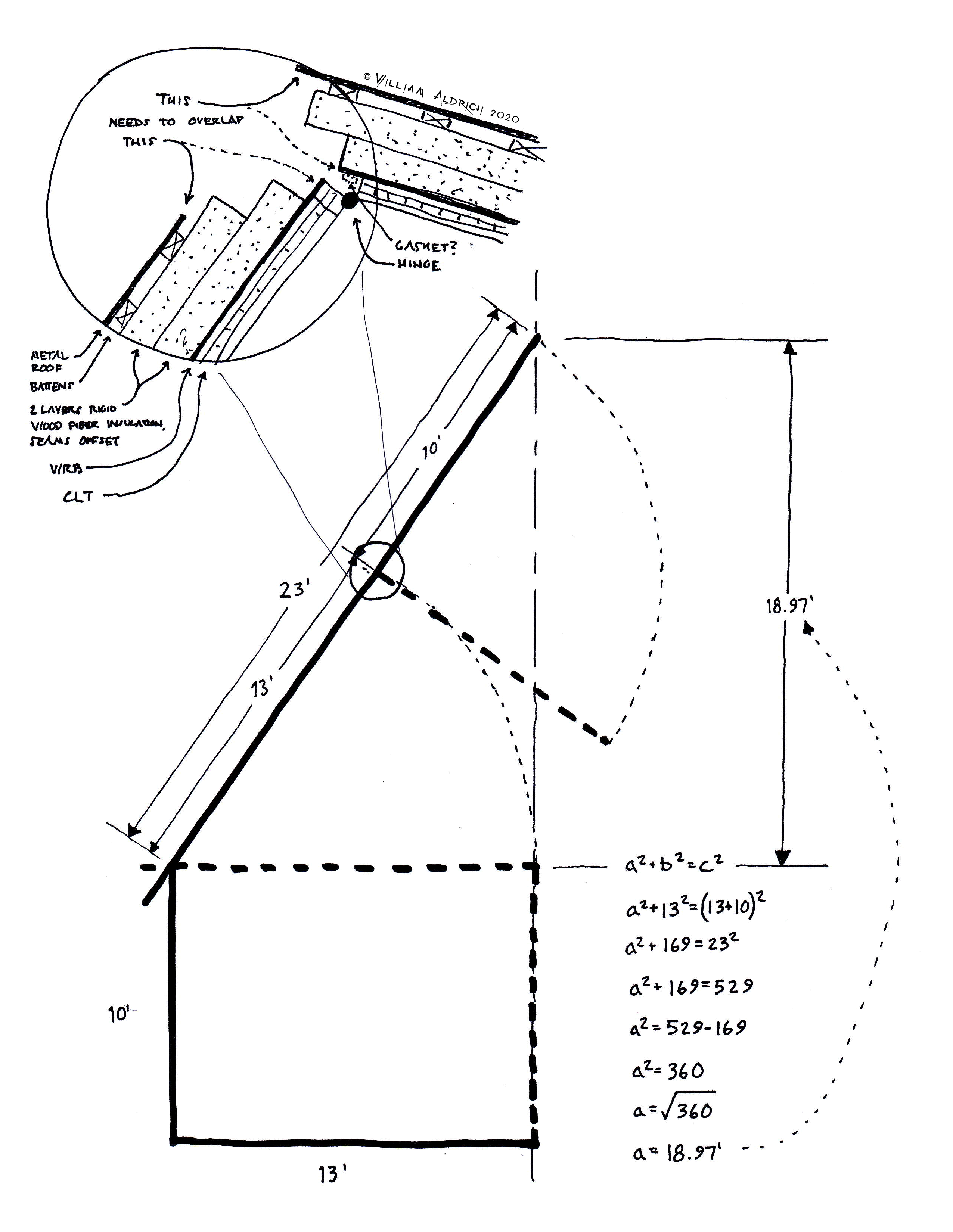 Sketched Section of Folding Roof
Ahhh…William's origami. Noticed that I saved the best for last? The whole goal with the foldable roof is so that we can transport the home from the factory to the site while still meeting road regulations for large loads. While the idea of these houses being available to the mass market is a pipe-dream, we would still like to build our own home with prefabrication in mind. 
So, let's pretend. Imagine a factory pumping out homes that are Passive House certified, net zero, small footprint, and provide healthy living. Like many modular homes, these particular models of 1,300-ish square feet would come in two parts on two different trucks. Transporting these homes on real-life roads means that we have to abide by real-life road regulations. They can be no more than a certain height and a certain width. You have seen our roof. There is NO way it is going to cruise down the highway. 
Having the roofs fold during transport provides two purposes. One, it makes the home narrower, thereby meeting road regulations. Two, the roof can 'wrap' around the otherwise exposed interior of the home, protecting it in transit. Once the home puzzle pieces are placed on-site, the roofs would unfold and the home would be made whole. 
Now, there are obviously some concerns. One of which is how to meet Passive House standards while having a blatant break in our air barrier at the folding seam. Another concern is weight. CLT is not necessarily a light building material, and we intend to use it everywhere, including with that origami roof. 
There are many more questions and concerns which we are currently dancing with. So, to end this blog, we would like to invite you, our readers, to please send us your thoughts! How do you like our floor plan? Could you imagine raising your family there? Any inspirations on how to make it more space-efficient? What about that crazy roof hinge? Have you seen anything like it before (if so, please do tell us where…)? 
We look forward to hearing from you! And, again, thank you for sticking with the crazy…now go clean the coffee splatters and drool off of your poor computer!
Sincerely,
Shelby Aldrich