Home Building Curiosities: Onion Flats
Dear Readers,
I swear, Onion Flats does it all. They do architecture. They do development. They do construction. They even do green roofs totally decked out with solar panels. They do all of this with sustainability in mind. They are utterly revamping Philadelphia, Pennsylvania to be a hub for Passive House and Net Zero readiness. Their primary goal is to reduce the operational carbon footprint of their buildings, while also admitting that embodied carbon in buildings will need to be considered if we really want to reach a sense of stable sustainability.1 And not only do they have a heart for green building and design…but they also have a heart to share it with our low-income, swept-under-the-carpet communities. They are physically building a world where sustainability should not just be "for the rich."
Their completed project, Belfield, is the primary example I, personally, really want to look at. They have other incredible projects in Philadelphia which I strongly encourage you to take the independent, personal initiative to check out! But since I'm the one writing this blog, I am writing about Belfield. 
The Belfield Townhomes development was Onion Flats' first in just about everything. It was their first build from the ground-up, their first certified Passive House (PHI), and it was their first experimental prefab project. Firsts are scary. And they are even scarier when you have a time crunch. In order to qualify for federal funding, they had to design and build the modular Passive House townhomes in five months. Five months. 
But the initiative was there. The townhomes were intended for "formerly homeless and low-income families" supported by the Philly non-profit, Raise of Hope.2 Environmentally friendly, affordable, healthy homes for the homeless…Onion Flats was all in.  
When they were done, they not only completed Pennsylvania's first certified Passive House which also just happened to be net zero…they created homes…safe havens…sanctuaries…opportunities…for large families who had been stuck in a cycle of homelessness. Remember when you were Pam? And how hard it was to find an apartment when you had so many kids and so little money? Well, the Belfield Townhomes consist of three five-bedroom rental units specifically oriented to harboring large families transitioning "from the shelter housing system." Not only are they given a stable (and solar power generating) roof over their heads, but the families are provided with help to break the cycles they are trapped in. Families are offered "GED training, school tutoring, and substance abuse prevention counseling."3 
I am obviously geeking out. What they did with Belfield is inspirational, and awe inspiring, and it is what William and I totally dream of doing. While William and I work towards that 'one of these days' dream, we can cheer on and spread the word of the incredible work that is already being done by firms like Onion Flats. So, let's take a lil' bit of a closer look at these Belfield townhomes based upon our five main principles. 
Oh! Quick-ish note: I am obviously not the architect in William and I's relationship. He is. But I'm the one writing this blog. So, if you are like me and are just trying to become more educated on sustainable building…totally don't feel bad if you need to look back on previous blogs to refresh on a terminology or two. I shall try to define most things as I go…but I also don't want this to be too dense. Also, keep in mind that the Belfield townhomes were certified to PHI standards. But! The principles of airtightness, insulation, and ventilation are the same as PHIUS.
Passive House
The Belfield townhomes were certified by the Passive House Institute (PHI) in 2012. They only had to complete one blower door test to confirm an airtightness level of 0.40 ACH (air changes per hour) at 50 Pascals.4 To review on ACH, that means that the air in the Belfield townhomes totally escapes to the outside, and outside air totally leaks in, no more than .4 times in an hour…when the home is pressurized to 50 pascals.5 Philadelphia now adheres to International Energy Conservation Code (IECC) 2018, which mandates that a home or building may not have more than 5 air changes per hour.6 Five air changes per hour in comparison to .4 air changes per hour…let's just pretend for a minute that your home is constantly pressurized to 50 pascals (I have no idea how comfortable or feasible that actually is, but for the sake of appeasing my architecture husband, all variables remain constant) and that you are trying to heat your home on a cold day. If your home just met IECC 2018 code with 5 ACH, you would have to expend energy to reheat the air in your home five times every hour…because the warm air you just painstakingly heated, leaves…five times…every hour…and then cold air leaks into your home and takes its place…five times…every…hour. Now, what if your airtightness rating was .4 ACH? Bonkers. 
The walls of Belfield have an R-value of 33.5, roof has an R-value of 52, and the floor has an R-value of 56.8. The windows have an installed R-value of 6.67.7 Given that this project was completed in 2012, and the R-values still far surpass Philadelphia's adoption of 2018 IECC building codes, is impressive.8 IECC 2018 R-value requirement for wood frame walls in climate zone 5 (Philly) is R-20. Roof is required to have an R-49, floor R-30, and windows R-3.3. From 2012 to 2020, Belfield is still better than code. 
The Belfield townhomes use an air-source heat pump for their heating and cooling, and they have an Energy Recovery Ventilator (ERV) for their ventilation system. Because Belfield is so well insulated and airtight, they can often meet the energy demand of the building (plus some…) with the 5kW (kilowatt) solar panel array on the roof…bringing us to….. 
Net Zero!!! 
With the 5kW solar panel array on the rooftop, not only are the townhomes net zero, but sometimes they are even net positive and are able to send electricity back to the grid. Of course, this depends on the energy usage of the residents…and Onion Flats is determining a system of effectively 'earth shaming' residents of other buildings who are obvious culprits of using more energy than they actually need. That sounds bad when I write it out that way…but I promise, it is an anonymous system that is really quite clever in a sustainable and architectural design element kind of way.9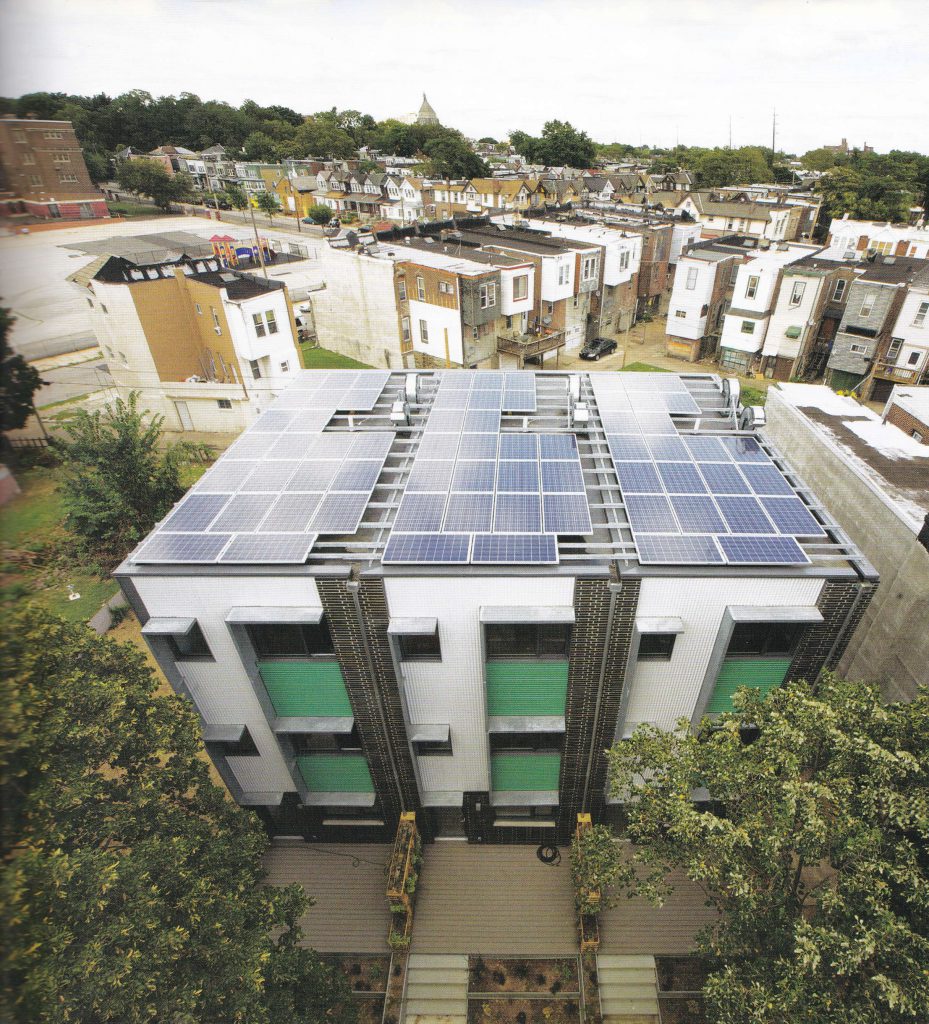 Solar panel array on top of Belfield. Credit: "The Greenest Home" page 47
Prefabricated
Each individual townhouse that makes up Belfield was prefabricated in a factory. Onion Flats made sure they were as complete as possible before delivering the modules on-site: from the wood studs, to the insulation, to the wall sheathing with an air and moisture barrier, to the plumbing, finishes, and even to the electric and monitoring systems.10 For a first time prefab project, that is intense. We are not talking prefab panels, we are talking prefab down to the electric and plumbing of a whole module.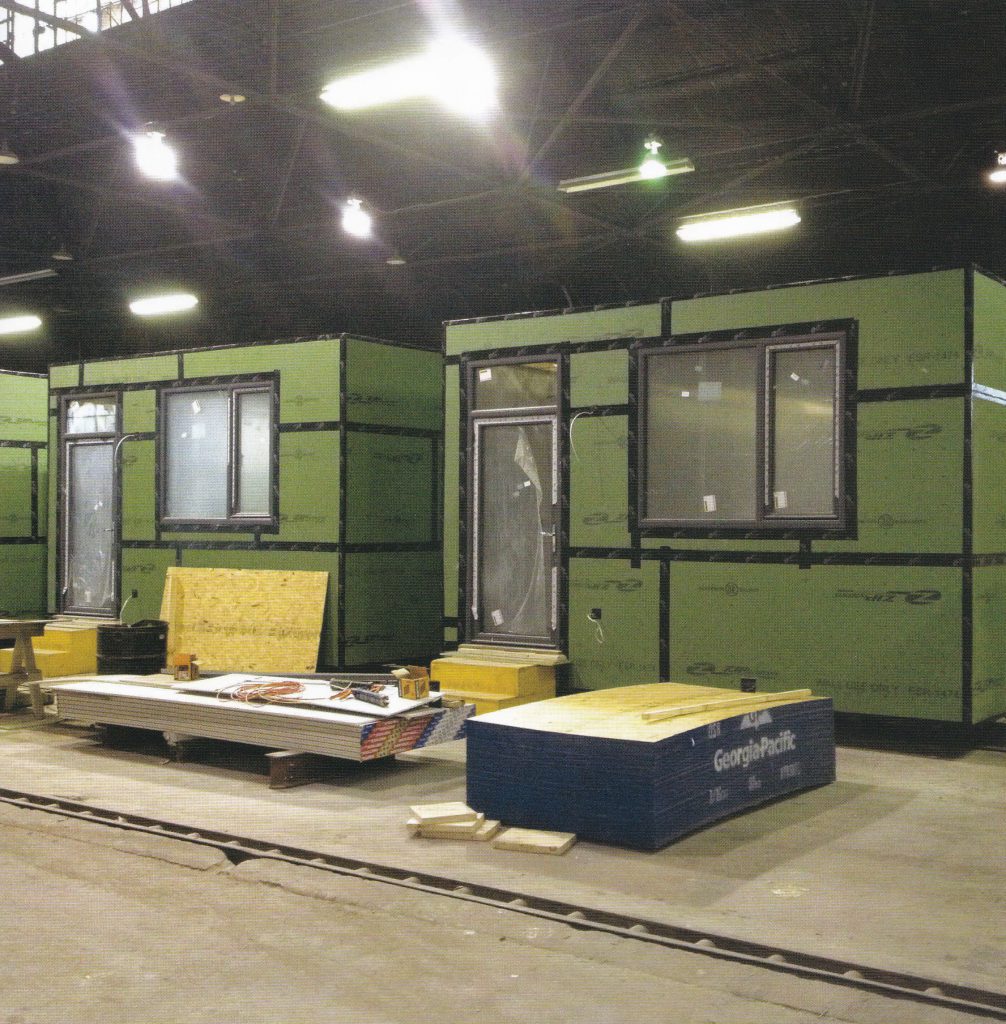 Prefab module. Credit: "The Greenest Home" page 157
Small Footprint and Healthy Living
Each townhouse unit is equipped with a front stoop, porch, and a 'green wall'. The stoops and porches enable social interaction with neighbors, while the living plant walls provide the occasional necessary solitude.11 A common area and community garden sit behind the building, off the main street. The garden and outdoor living spaces encourage independence, confidence, and the opportunity for self-sustainability and community contribution. 
Ready to hear another neat part about this building? Onion Flats actually continues to monitor their Belfield apartments by collecting data regarding the building's electrical usage, the amount of solar power collected, the temperature and humidity levels, as well as air-quality levels.12 This building was not left to just stand stagnant. It is constantly monitored to ensure that it is still working the way it is supposed to- being energy efficient and having low to zero operational carbon- and that it is still a healthy living space for the families who call it 'home.'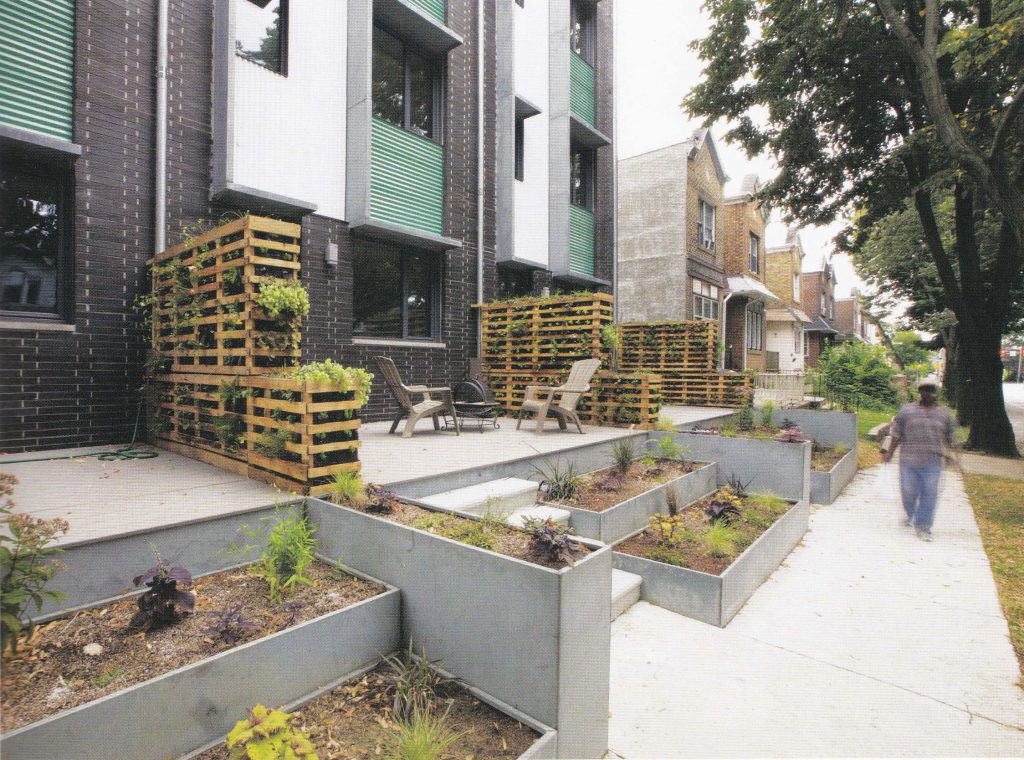 Porch stoops and green walls. Credit: "The Greenest Home" page 49
The excitement for eco-friendly building continues! As does the admiration for sustainable, affordable, homes for families who had been living without hope. A healthy living space and a healthy earth should not just be for those who can afford it…it should be a human right…and it is encouraging to see non-profits and architecture firms teaming up to make it happen. 
I'd like to officially end this blog with a humongous 'thank you' specifically to Passive House Accelerator for making educational opportunities open to even us amateurs~ without you, it probably would have been a very, very long time before I even knew of Onion Flats…and I would also like to give a recommendation for "The Greenest Home" by Julie Torres Moskovitz. I received a lot of information, and photos, from that book. It is also a plethora of knowledge for well over a dozen different environmentally friendly projects that are already out there. They are happening, guys! 
Thank you for reading!!!
Stay happy, healthy, and humorous, 
Shelby 
1. North American Passive House Network- Passive House Rocky Mountains. "Tim McDonald on Making Multifamily Passive House a Reality." 8 Oct. 2019. https://passivehouseaccelerator.com/articles/tim-mcdonald-on-making-multifamily-passive-house-a-reality. Accessed on 4 August 2020. 
2. Moskovits, Julie Torres. The Greenest Home- Superinsulated and Passive House Design. Princeton Architectural Press, New York, 2013. Page 46. 
3. The Greenest Home- Superinsulated and Passive House Design. Page 46. 
4. The Greenest Home- Superinsulated and Passive House Design. Page 156.
5. Same way PHIUS does their airtightness check with a blower door test, so does PHI. See PHIUS criteria blog for an overview of what a blower door test is.
6.  International Energy Conservation Code (IECC) 2018. "Energy Conservation Code 2018 of Philadelphia, Pennsylvania- Chapter 4 Residential Energy Efficiency-402.4.1.2 Air Leakage Testing," UpCodes.https://up.codes/viewer/philadelphia/iecc-2018/chapter/RE_4/re-residential-energy-efficiency#new_R402.4.1.2. Accessed on 4 August 2020.
7. The Greenest Home- Superinsulated and Passive House Design. Page 156.
8. International Energy Conservation Code (IECC) 2018. "Energy Conservation Code 2018 of Philadelphia, Pennsylvania- Chapter 4 Residential Energy Efficiency- Table 402.1.2 Insulation and Fenestration Criteria," UpCodes. https://up.codes/viewer/philadelphia/iecc-2018/chapter/RE_4/re-residential-energy-efficiency#R402. Accessed on 4 August 2020. 
9. Watch this video, and look for "Phase 3: The Battery"
10. The Greenest Home- Superinsulated and Passive House Design. Pages 46-48.
11. The Greenest Home- Superinsulated and Passive House Design. Page 48. 
12. The Greenest Home- Superinsulated and Passive House Design. Page 49.