Home Building Curiosities: Rural Studio's 20K House Project
Dear Readers, 
The Rural Studio's 20K House Project was introduced to us on one of Passive House Accelerator's Construction Tech Tuesdays. We didn't know anything about the 20K House Project previous to attending Tuesday evening's gathering. 
…Really though…all the knowledge we had of this 20K House Project was the title, which intrigued us because it had the word "rural" in it. We thought, "Hey, we are rural! And it seems like they are bringing the Passive House standard to rural areas? That's neat. We'll listen in on this…"
Little did we realize how gosh darn awesome this project really was.
And it is more than just a singular project…it is a whole program. Based in rural Alabama, it is an academic, student-driven, community-centered, people conscious, environmentally aware, and fluid architecture program. This program revives the ethos of 'home as the human habitat' and the fundamental 'why' behind education with every single home they build. 
Yeah. That's right. Bringing back the purpose of education and the primal human necessity of home with local, cultural, and interpersonal relevance. 
They are that awesome.
Here's how. 
Every year Auburn University's School of Architecture invites about four dozen students to participate in an off-campus design-build program. The program is located in rural, Western Alabama in a small town called Newbern~ which is located about 2 hours from the University. So, when students are invited to participate, they are also simultaneously being asked to live for the length of the program in the community of Newbern. Almost like an exchange program, but with a definitive mission: to build one house for a local community member by the end of every academic year. 
Who they serve: The community members they serve are those who have been living in a home that could use some major TLC. The new home is provided to the client free of charge…but they do also have to put up with architecture students for a full year 😉 
Like an exchange program, the students do experience a degree of culture shock. The students themselves of course come from a myriad of backgrounds. To some, assimilating to life in small town rural Alabama opens their eyes to hardships and disparities that they rarely, if ever, had to witness. This includes the homes of the clients, which can be out of some of the students' sense of 'normalcy.' 
A testament to the students' abilities to not only be adaptive, but to also be compassionate and see the 'human' in the 'home,' is how they proceed with the entire design and build process. They take the time to get to know the homeowner. They look at their current living situation, and they observe what is important to the client as a person.
A truck parked as close to the home's stairs as possible signified the need of one homeowner for a more accessible way to get into the home due to pain. 
A woman's urge to always sleep in the living room with the T.V. on gave way to understanding her loneliness and desire to keep the one bedroom always open for her son if he came to visit. 
Each home the students build is molded around the person who will inhabit it.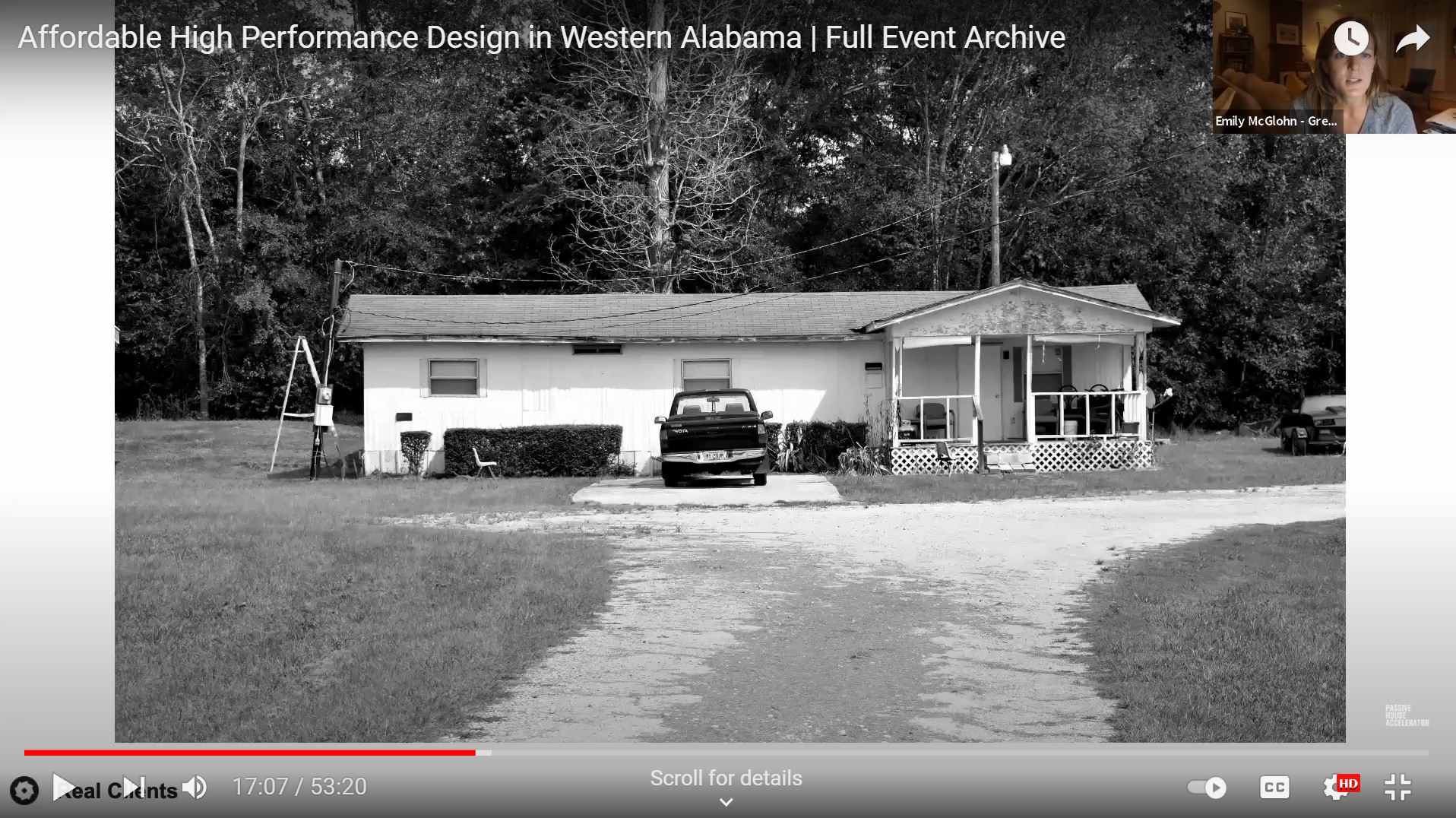 "…real building, real clients." Ree's "well-used home." 
Student sketch of Ree's home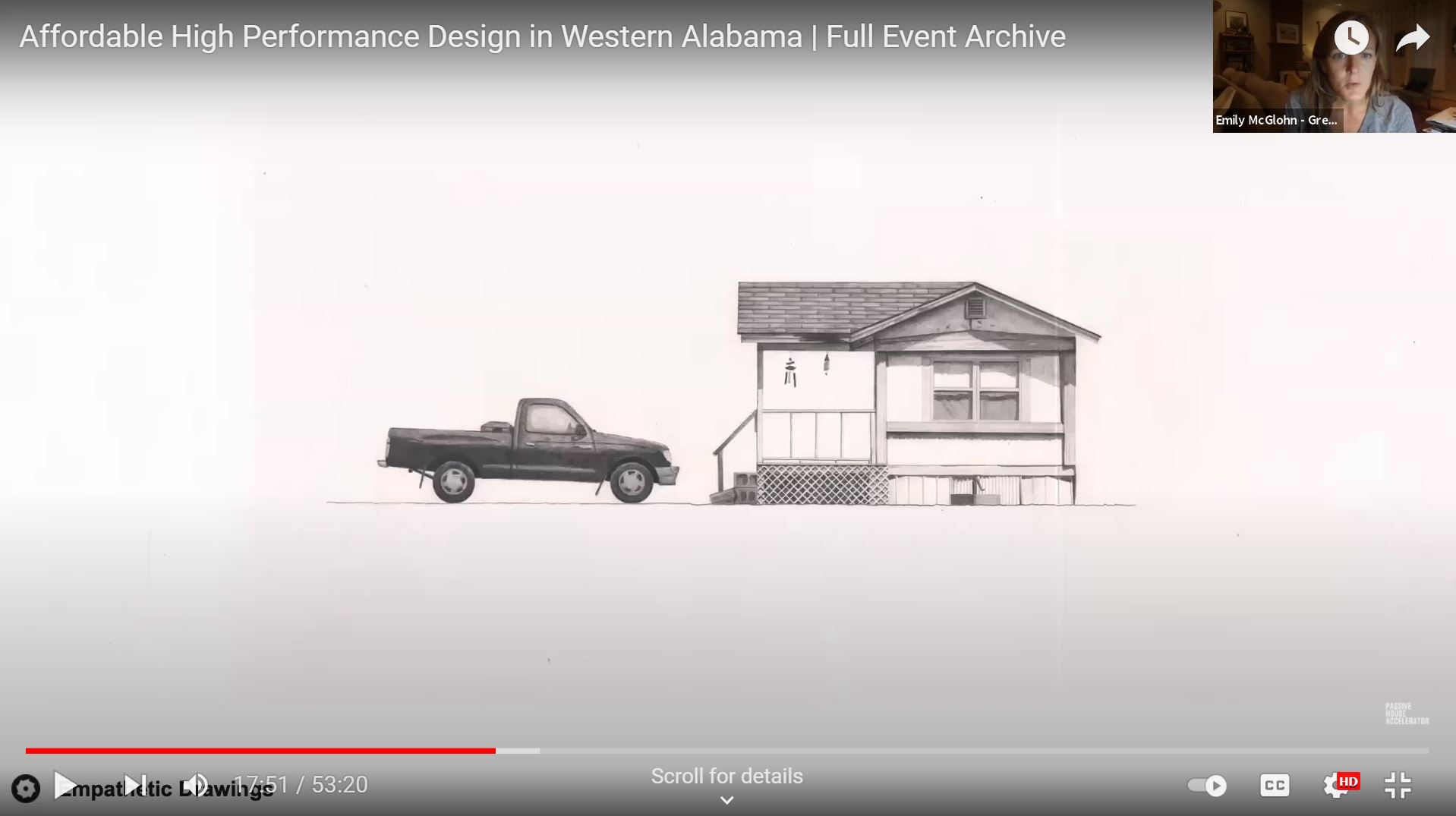 Student sketch of Ree's truck and home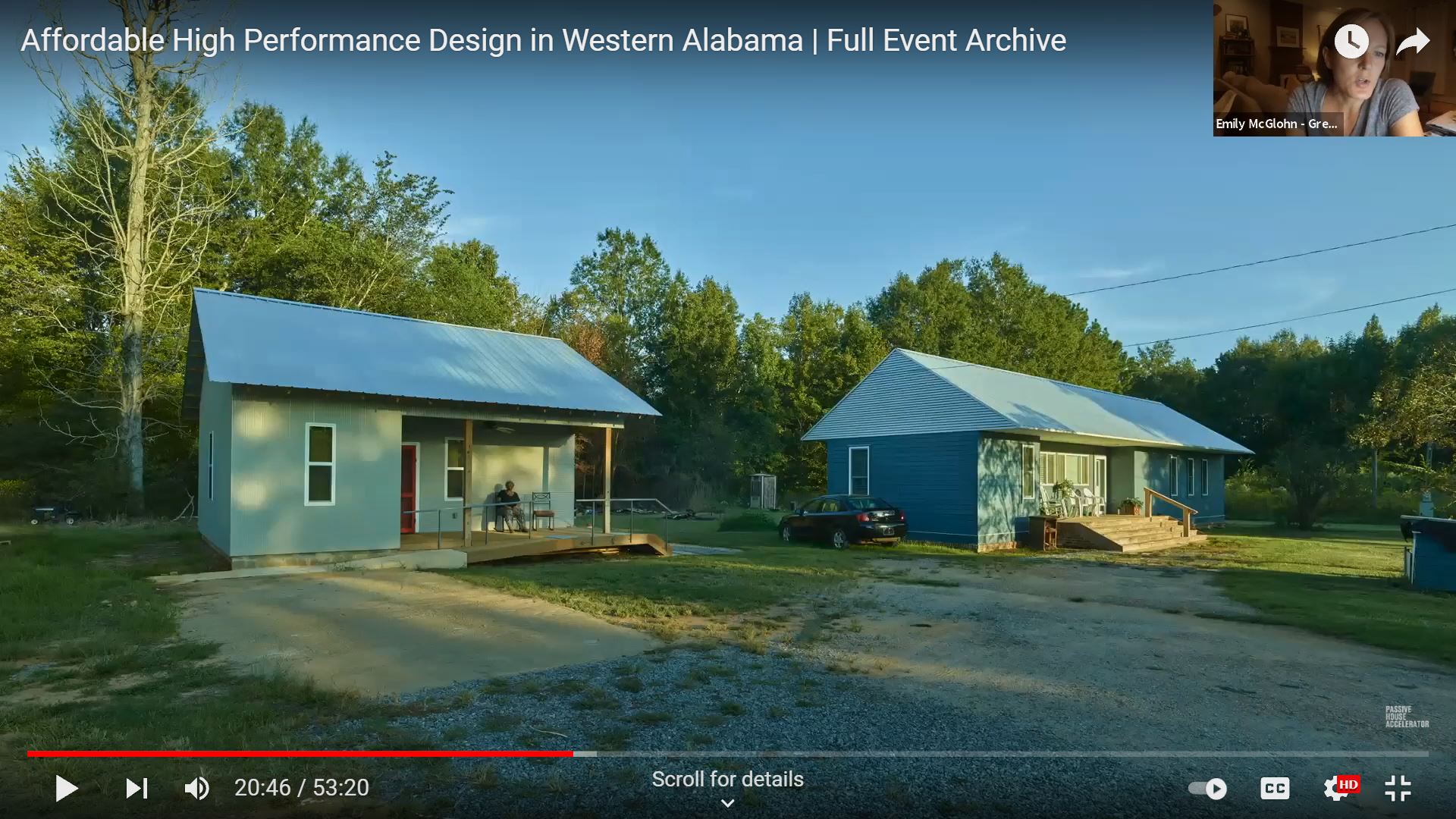 Ree's finished home is on the left. Notice her accessible ramp and inviting porch!
And the entire time the students are designing and building…they are learning and researching and applying that knowledge in real time with all of the real constraints of building a quality home on a real budget. 
The Cost: With constantly changing labor and material costs, it does not actually cost the program only 20K to build each home. It costs more like 40K…but, 20K is what the government is willing to give in grant money for their initiative, so it makes a nice title. 
Because the homes are built with cost in mind, and because they are so fluid and adapt to each individual homeowner, not every home is certified to specific energy standards, such as Passive House. They of course aim for high performance and efficiency~ they even apply the principles of Passive House ~ but it can be cost prohibitive for them to certify. The availability of Certified Passive House Consultants in their rural area is slim, and they are running on a limited budget. "Limited" may not be the most appropriate term. A "real" budget is more like it. They are building with all of the cost restraints associated with affordable housing and…well…the cost restraints of just building a quality home in the first place. 
The homes they build are by no means large. They are small, and humble. But they are also durable (and waterproof!)…durable enough that they meet Fortified's Gold Standard and can withstand hurricanes. The homes are also built to be secure, as well as to foster a sense of community~ almost every home has a good ol' southern front porch 🙂 The homes are accessible and promote overall health while also being of quality craft and design. The homes also have a strong sense of presence and dignity while also being, most importantly, buildable. 
Being Buildable: The project does not end after the home has been built for the client and they have happily moved in. No, no, no…it is only the beginning. 
As all epic adventures and heartfelt creations deserve, the students christen the finished home with a name~ the name of the homeowner. There is Ophelia and Ann. Mrs. Patrick, Dave, and Ree…Buster and Johnnie Mae. The list goes on and on…in fact, it goes on to list almost 200 more homes named after their occupants.
And when these homes are built and christened…after the students have packed up and said their farewells to Newbern and the homeowners they connected with…the home they designed goes on to be a prototype for another venture: the Front Porch Initiative. 
The Front Porch Initiative takes these buildable, affordable, quality homes and makes them into products to meet the housing needs in rural America. Their Field Test Partners (housing providers such as Habitat for Humanity) can purchase "Macarthur's Home"~ a one bedroom, one bathroom, 536 square foot home with a 100 square foot front porch ~ and make it available to their clientele.
Overall! William and I are obviously head over heels impressed. And I am going to end this Home Building Curiosity with first a question, then a challenge. 
The question: are there other architecture programs (especially in our area!) that do something similar to the 20K House Project? Penn State? University of Pennsylvania? Anyone know? 
The challenge: Is there a way we can push to implement something like this in our local universities' architecture programs?? Anyone know any cool professors with enthusiasm for projects and learning opportunities such as Rural Studio's 20K House Project? 🙂
That's all for now! Thanks for reading and learning with us!!
Shelby
A majority of this information was obtained from the presentation: McGlohn, Emily and Betsy Farrell Garcia. "Affordable High Performance Design in Western Alabama," sponsored by Passive House Accelerator. 19 October, 2021. 
Additional information was found on Rural Studio's website: Home – Rural Studio