Home Building Curiosities: The Bridge
Dear Readers,
I think I am honestly in love. And William is right there with me. No, I am not talking about our marriage. It's still going great, though! Thanks for asking. I am talking about our seventh Home Building Curiosity, The Bridge. The Bridge is highly unique in comparison to the curiosities who preceded it. This building curiosity is also relatively very new, and very local (well, to us at least). The Bridge is currently gathering the funds, resources, and momentum to tackle their first project: renovating the long-abandoned Bishop McDevitt Catholic School in Harrisburg, Pennsylvania into apartments, community development spaces, and educational centers. They want to turn the old school into what they are calling, an 'eco-village.' 
Much like William and I, The Bridge has five main principles that they would like to adhere to. Very unlike us, they are renovating an already standing, old, rather large, structure…a 1930's, 115,000 square foot building resting on an eight and a half acre property, to be exact. They are also attempting to keep the building as true to its original form as possible, and only modifying the interior. We, on the other hand, are doing a small, new build. 
Understandably, the five main principles are therefore different. As you may be well aware at this point, William and I's five main principles that we want our home to follow are: meet Passive House standards, have prefabrication in mind, be net zero or even net positive, have a small footprint, and provide and enable healthy living. The Bridge's five main principles are: Work- provide a place on-site (a makerspace, an office…) where entrepreneurs can gather together to share resources, ideas, and create, Eat- closed loop agriculture will be practiced, allowing fresh food to be available to inhabitants year round, Live- apartments will be available for rent, including affordable housing options, Learn- job training, personal development, and tutoring will be made available to inhabitants on-site, Play- arcades, concert venues, gyms, will all be on-site for inhabitants. Because this is a Home Building Curiosity, we believe that it is relevant to present The Bridge according to our five main principles. However, their five main principles will not be neglected, as you can see in the contexts of 'net zero,' 'small footprint,' and 'healthy living.'
Passive House
Because the Bridge is doing a very, very large renovation while maintaining the essence of the preexisting structure, retrofitting the building to Passive House standards is extremely difficult. In most retrofitting cases, a home needs to be stripped to the bones before remodeling it to meet Passive House standards. They are not going to strip a 90 year old, historic, 115,000 square foot building to its bones. First, that would not be the most environmentally friendly thing to do considering the amount of material that would be trashed and then in need of replacement. Second, it would take a building that has historical and spiritual context, and potentially defile it. And third, that would be bloody expensive. 
It is unknown if they intend on putting more insulation on the interior, which would of course greatly decrease their need for heat/energy in the winter, and could reduce their solar panel reliance…
Prefabrication…
…Is not entirely relevant here. As far as we know, they are not incorporating any prefabrication techniques into their renovation. As stated, it is a 'revamp,' taking an existing structure and making it into an eco-friendly living, learning, community space.
Net Zero
While Passive House is not in their future, they do intend on making the Bridge net zero, or even net positive! They intend to achieve this by having 25,000 to 30,000 square feet of solar panels put in place.1 When the building does create an excess amount of energy, they intend to wire that excess energy back into the grid. They also are considering the option of using geothermal heating for the building, which would make heating the building in winter less energy intensive. 
They also intend on using water collection for the irrigation of their large on-site farm. They do mention that the education of the patrons and renters is essential to success in achieving net zero or even net positive living. The inhabitants need to know how to use the building and be familiar with sustainable mind-sets in order for the building to work the way it is intended. 
Small Footprint and Healthy Living
HERE is the part I am honestly most excited about…All five of The Bridge's main principles could fit under 'small footprint' and 'healthy living.' I think what they are doing is the epitome of what true, holistic, sustainability is striving to be. They are looking to be not only environmentally friendly in their rainwater collection, solar panels, and geothermal heating…they are looking to be socially responsible by providing a healthy, safe place for the community to live, work, learn, play, and eat. And 'environmental' and 'social' ethics can be argued to be heavily intertwined. 
If you want a healthy environment, you need a healthy community. No one is going to prioritize sustainability if they are struggling to keep a roof over their head and their kids in school and addiction at bay. People need to have stable housing. Education. Creative and physical outlets. They need to have hope and a future they feel worth investing in, before they can go and say "we need more trees!" 
And vice versa. If you want a healthy community, you need a healthy environment. If the air people breathe, and the water people drink, and the food that they eat are all heavily laden with pollutants, chemicals, and overall results of negligence…then you won't have healthy people…you won't have healthy families. 
What The Bridge is aiming to aid, is both. Environment and community. And they are doing this with heavy input from….guess who? The local Harrisburg community. They are asking questions like: what kind of food would you like us to grow? How can we collaborate with local farmers and help them out, too? What would you like to have in the makerspace? A kiln? A programming class?  What do you want for 'play'? A rock climbing wall? A gym? 
Eating is important. Harrisburg is essentially a 'food desert.' It has one super market in its city limits. There are of course mom and pop shops which dot a street or two, and they have Rite Aids and Dollar Generals…but they do not provide the substantial nutrition people need. Harrisburg, in essence, is a city for the 'nine to fivers' who commute into the city five days a week, NOT for the people who actually live there. There are fancy restaurants and cute cafes…which is great for the people who can afford them. But not for those who can't. 
By The Bridge offering a full fledged farm on the property, they are benefiting not only the inhabitants with on-site, fresh, veggies and fruits…they are helping the immediate community: Allison Hill. They are going to share their crop with local grocery stores in the area, and partner with local farmers…and thereby expanding their community network and interdependence, and success, on one another. They are creating community empowerment and an appreciation for growing what you eat. 
The living, in my opinion, encompasses all the living spaces: work, eat, play, learn, and the family safe havens…the apartments…the homes.  It all starts with a home. Stability. A community. Especially if that community includes all socio-economic levels: affordable housing being offered alongside medium to high income renters. 
Remember Pam? And that vicious cycle of homelessness she found herself in, which sadly could easily be passed to her daughters? Cycles of poverty and addiction need to stop somewhere. By being provided with a safe, healthy living environment…surrounded by neighbors who are invested in the community, and raise you to that standard as well…to have access to fresh food…and access to job empowerment opportunities…and your kids to have access to a quiet place to study and tutoring help…and you and your kids to have access to safe places to create and be physically active and engage with peers…..that sense of a healthy, stable community…the act of building a community…having people who genuinely care if you didn't do your homework or if you actually ate dinner the night before or what extracurricular activities you and your friends are engaging in….breaks the cycle. The Bridge is going to try to break the cycle. Not just for one family, but for a whole Harrisburg community. Which is a beautiful, awe inspiring, bloody darn hard venture. 
So, yes. The Bridge's endeavor with renovating the old Bishop McDevitt is certainly an architectural feat. With how they intend to revamp it with sustainability and local families in mind, makes it a communal triumph. They are not just building a village, they are building a future people could feel worth investing in. They are revitalizing hope.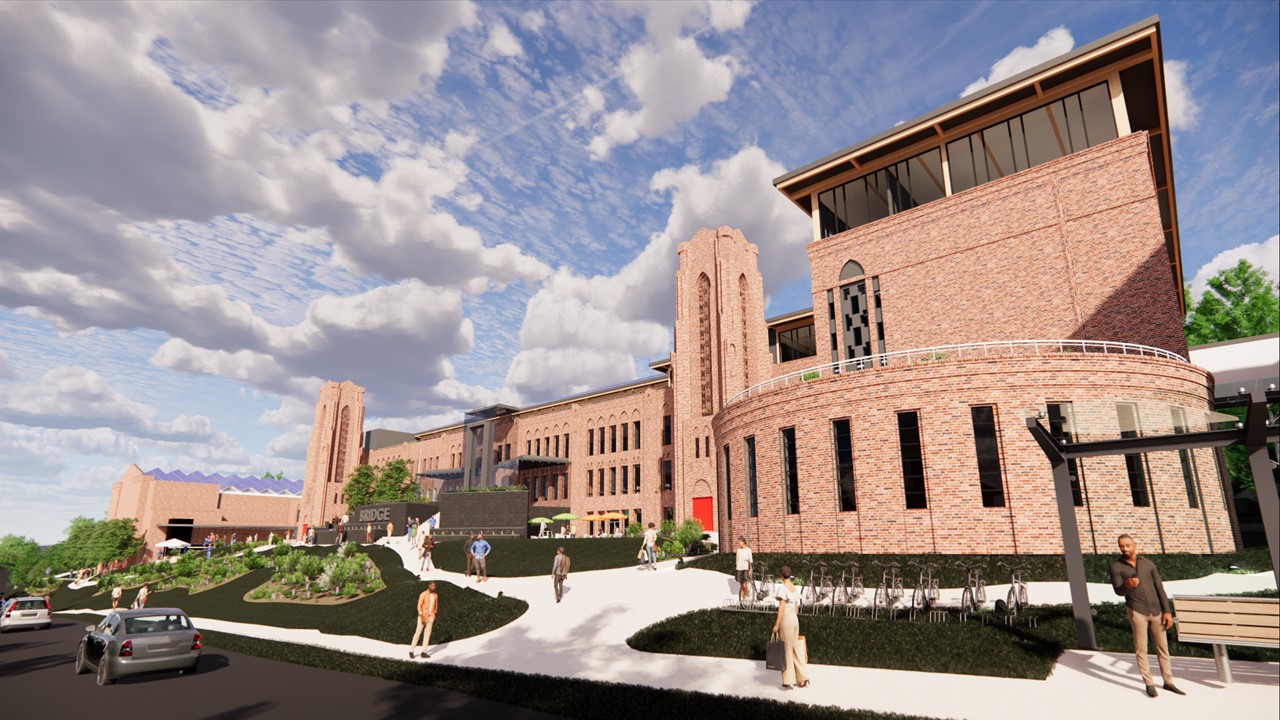 Thank you for reading!!
Shelby Aldrich