Dear Readers,
Welcome to the seventh and final Petal of the Living Building Challenge. These blogs have been long and many, and we appreciate you sticking with us as we navigate the twenty Imperatives. The past six Petals of Place, Water, Energy, Health and Happiness, Materials, and Equity have shown just how challenging building this home is going to be. To freshen your memory on those petals and their imperatives, we'll show you that chart one last time.

The Seven Petals of the Living Building Challenge and their Imperatives
The Beauty Petal
I know what you may be thinking, how can the Living Building Challenge judge a building's beauty? 'Tis it not in the eye of the beholder? Well, I think they navigate this Petal well – they don't require that your building is beautiful necessarily, but they require that you spend time to integrate natural aesthetics and develop a plan to share your building with others. If you're required to spend time looking at beauty, your building should be beautiful to you; and if you're required to share your building with others, you'll probably look into making it beautiful for them, too (no one wants to share an ugly building).
You might also ask why beauty needs to be part of the challenge, how can beauty be sustainable? Quite a simple explanation actually: which buildings tend to stand the test of time? The beautiful ones! Beautiful buildings are the most desirable ones, and if we want humanity to work towards a more sustainable future, we need to show that efficient, healthy, and accessible buildings can also be passionate works of art.

Beauty Petal and its two Imperatives
There are two Imperatives of the Beauty Petal: Beauty & Biophilia and Education & Inspiration.
The Beauty & Biophilia Imperative demands that project teams must spend at least one day exploring biophilic design to create a strategy of how the project will incorporate: environmental features, sunlight, natural shapes, natural patterns/processes, place-based relationships, and design features solely intended for enjoyment.1
How the Beauty & Biophilia Imperative will impact us and The Seed:
This Imperative should not be an issue, and Shelby and I look forward to the day that we can do this with an architect. As I mentioned in our last LBC blog on the Petal of Equity, we'll need an experienced architect to help us out with our drawings and make sure my drawings actually make sense. So, to meet this Imperative, Shelby and I will have to sit down with this architect and anyone else that may be a part of our design team, and spend at least a day working on creating a beautiful design out of our house. For now, I've been thinking very practically because of all the performance metrics we'll have to meet to make Passive House (PHIUS) standards and all the other Petals of the Living Building Challenge. But Shelby and I don't want to live in a communist-styled concrete box. 
However, creating something beautiful can be a natural effect of creating something sustainable – to meet all of the other Petals we will already have bare timber walls, lots of natural light and windows, very open spaces, and natural materials everywhere. As I've mentioned before, we both like the idea of bark and/or moss on our walls!! Oh, and our home's footprint might even be a golden ratio…
The last Imperative of the Beauty Petal, and the Living Building Challenge for that matter, the Education and Inspiration Imperative, requires that projects provide a Living Building Challenge Case Study, a day open to the public each year (residential projects only once the first year), and a copy of the Operations and Maintenance Manual. Projects (except single family residences) must also provide a design and environmental features brochure, interpretive signage for visitors, and an educational website about the project.2
How the Education and Inspiration Imperative will impact us and The Seed:
Alright, the LAST Imperative. Honestly, the idea of sharing our home with other people is exciting to us. Shelby and I want our house to be interesting to people, and we would absolutely love to share it. To make a Living Building Challenge Case Study, we essentially have to write a report on our project for the International Living Future Institute to use – which we will gladly write when we succeed (confidence right there). The Operations and Maintenance Manual will probably be a work in progress as we continue designing and developing, but I would be more than happy to make a polished product of it afterwards. This would help us remember how to care for all of our unique systems throughout the years, but would also allow us to share with others what it looks like to live in, and care after, such a home.
As for that bit about a day open to the public each year, Shelby and I have agreed that we would like to stick with that if we can, and not take the easy way out with the residential exception (one public day in the first year). Honestly, one of the main reasons we want to do this is not just for us to live sustainably, but for us to show others what it looks like to live sustainably. We love the idea of opening up our home to curious individuals and students, and would be more than willing to tidy up our house at least once a year to give tours! Shelby is already brainstorming ways to create educational programs for all of our county's local public schools~ maybe make our home into a free sustainable architectural field trip for all ages. 
Which then leads us to the next part of this imperative, providing informational brochures, signage, and a website. Again, it's not necessary for us to do this because our project will be a single family residence, but again, we desire to share the things we learn in this endeavor! Since we are open to annual open houses, we should almost definitely have brochures ready to explain a good bit about it. We'll even hand them out when we have family and friends over! And Shelby and I have figured that we could make lovely little signs to replace our family pictures when these open houses occur.
Then there's the website. You're a part of that right now! We'll be completely honest with you, we didn't know this was a part of the Living Building Challenge until a couple weeks ago. Frankly, we didn't know the Living Building Challenge existed before we started this website, Sustaining Tree. Low and behold, here we are. Shelby and I have already started the last stipulation, of the last Imperative, of the last Petal of the Living Building Challenge, and we didn't even have to do it because our project is a home!! Dang, we're such overachievers 😉
Well, that's the end of the Beauty Petal! That one was short and sweet…and shouldn't be terribly difficult to integrate into our home. However, that's also the end of the Living Building Challenge Imperatives altogether! And altogether, it's definitely difficult. The standard is considered to be the most stringent measure of sustainability a building can be certified by, and after reading through all of the stipulations our home must meet, hopefully you understand why.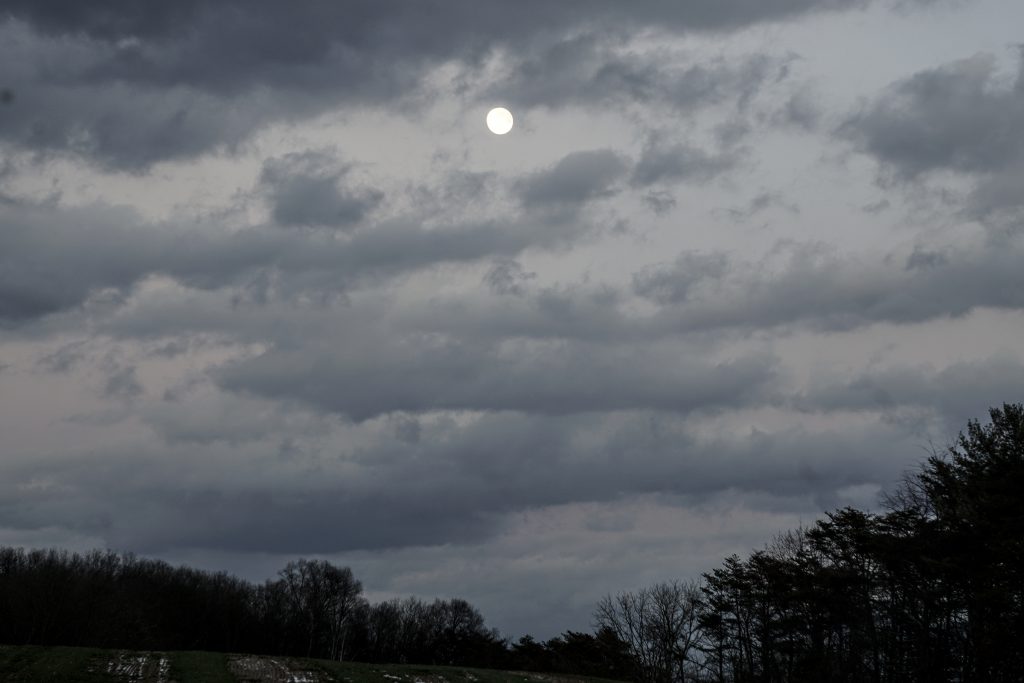 The moon in all her beauty…
Thank you for following along through these past couple of blogs! We know some of them were quite dense (cough…materials-petal…cough), but in creating this dialog for you to read, we ourselves have learned a great deal about what it takes to meet this standard. Aaaaannnnddd…we have our work cut out for us! 
Honestly, the most surprising aspect after having done these blogs, was to find that the Living Building Challenge aligns extremely well with a lot of the intentions we were already developing for our home before even knowing the Challenge existed! I mean, we were already talking about a low carbon footprint, a composting toilet, rainwater collection, biophilic design, net zero energy usage, accessible living, healthy spaces, natural light everywhere, etc, etc (check out our very first blog if ya don't believe me)…and then along comes this certification that we find and we're in love! Alright, I'm getting excited, but really…It's awesome to find out that we aren't the only people to be thinking the way we are – that there are other people out there who were inspired to make this certification, and that there are other people out there who are dedicated to meeting this certification. It gives us hope in our future, and it inspires us all the more to create this crazy house!
Thank you for your support, dear readers!
William Aldrich
1. International Living Future Institute. Living Building Challenge, Version 4.0, Seattle, 2019. Page 66.
2. Living Building Challenge, Version 4.0, Page 67.