LBC: The Health & Happiness Petal
Dear Readers,
The article you're about to read was written during the COVID-19 Pandemic, at the end of the year 2020. That being said, keep the pandemic in mind as we look at this standard, because I think it's unbelievably relevant. It's important to have a healthy home in the first place, but that much more important during a pandemic…
We have delved into what it takes to meet standards set forth by the Living Building Challenge, for the petals of place, water, and energy. Below is a visual refresher of all seven petals and their imperatives.
The Seven Petals of the Living Building Challenge and their Imperatives
The fourth petal is Health and Happiness. This petal does not seem as difficult as the past petals, especially since we will already be including a robust ventilation system to meet Passive House (PHIUS) standards. The technology to accomplish it is pretty conventional, and our local code officials shouldn't have any reason to question why we want our interiors to be healthier.
In all honesty, this petal should probably be applied to every building being built and as you read it, maybe you'll think the same way I was: it all seems like common sense to meet these standards.
The Petal of Health and Happiness

The Health and Happiness Petal and its three Imperatives
The Petal of Health and Happiness is characterized by three Imperatives: Healthy Interior Environment, Healthy Interior Performance, and Access to Nature.
Healthy Interior Environment requires compliance with ASHRAE 62, prohibits smoking within and around the building, requires 75% of regularly occupied spaces to be naturally lit and calls for exhaust vents for all service areas. A Healthy Indoor Environment Plan must also be developed and should cover the building's cleaning methods, particulates and toxins prevention, and at least one indoor air quality improvement strategy.1
How the Healthy Interior Environment Imperative will impact us and The Seed: 
Alright, let's understand that first part: ASHRAE 62. First, the crazy acronym stands for the American Society of Heating, Refrigerating and Air Conditioning Engineers.2 They created a standard for Ventilation for Acceptable Indoor Air Quality. To quickly explain that standard, it describes the minimum amount of fresh air that needs to be brought into a building in order for it to be considered acceptable for human occupants. The standard also defines the proper humidity levels of this air being brought in, and how to make sure it is clean.3 Did you know most typical homes don't have a ventilation system at all? If your windows and doors are closed, you're probably breathing in the same air, all day long; maybe even all season… As I stated above, since our home will be meeting Passive House standards, we will definitely be having a robust ventilation system for fresh, clean air, 24/7.
I shouldn't have to explain why smoking is bad for indoor air quality, and I'll get into natural light with the next imperative, so I'll move on to the exhaust vents for all service areas. This is another requirement that will come as standard with any Passive House certified home. If you're bringing fresh air in, you need to take stale air out. Our home will come with these vents specifically in the places where the air tends to be the stalest: the kitchen and bathroom (the service areas). Most homes come with such vents in these places, but without fresh air coming in, the typical home is forced to suck in air through all its cracks and crevices when those vents are turned on. What makes a Passive House ventilation system superior is the balanced amount of incoming air and outgoing air. These two streams of air pass by each other (without physically touching) in an Energy Recovery Ventilator (ERV) which allows the humidity and temperature of the outgoing, stale air to transfer to the incoming, fresh air.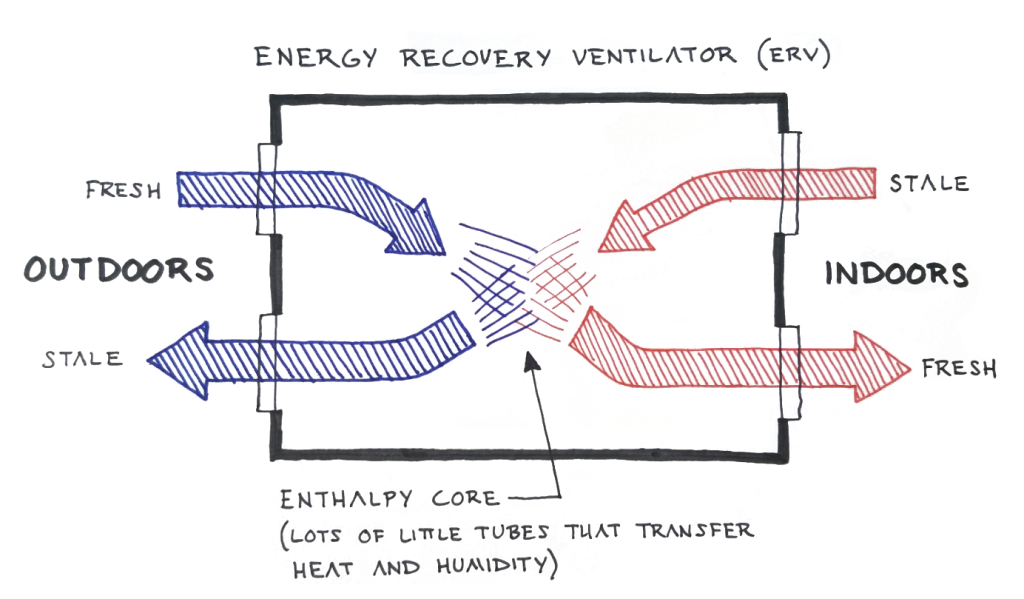 William's Sketch of an ERV
The Healthy Indoor Environment Plan, explained simply, is like an operation manual for the owners, users, and managers of a building. The people designing the building (the architects and engineers) are required to create this "manual" that will inform people how to care for it. It would explain the cleaning products and methods to be used when, how to inspect and maintain different systems, prevention methods for clean areas, and strategies to improve the indoor air quality.4 Since Shelby and I are designing the bulk of this crazy house, we'll be pulling this manual together – but it won't be without help from other architects, engineers, and manufacturers.  
To make sure your building stays healthy, the Healthy Interior Performance Imperative requires continuously monitored indoor air quality, or testing of air quality one to six months after occupancy; compliance with CDPH Standard Method v1.1-2010; and a cleaning protocol that only uses EPA Safer Choice labeled cleaning products. It is also necessary for 95% of the building's occupied spaces to have views and daylight, and at least two ways for occupants to interact with spaces by either giving them access to operable windows, letting them adapt climate controls, or flexible working conditions (such as standing desks). Residential buildings need to have operable windows in every living space.5
How the Healthy Interior Performance Imperative will impact us and The Seed:
This imperative builds off of the last one, and gets a liiitttlle tougher. After making sure the home's air quality is acceptable for humans, we need to make sure that it stays that way. We intend to have a variety of air monitors throughout our home that can be connected to our phones, or as Shelby mentioned in the energy petal blog, some sort of digital "brain" that can help maintain and operate a lot of our systems. We already know of a few monitors we can use that are recommended by Bill Hayward, creator of the Hayward Healthy Home. Side note – if you'd like to see how healthy your indoor air quality is with an online test of questions, you can get a Hayward Score and find out!
The way we build will help us pass the California Department of Public Health's (CPHD) Standard Method v1.1-2010. Essentially, this standard measures Volatile Organic Compounds (VOCs) of different products, and the materials we use in our home that could have VOCs (think of smelly paints or glues) need to meet this standard. We don't want to be breathing those lovely fumes in for the rest of our lives! Speaking of fumes, we shouldn't use smelly chemicals to clean our home either, and that's where the EPA Safer Choice label comes in. These are products that are deemed to be safe by the United States Environmental Protection Agency (EPA) for your home and it's occupants. You can find these types of products at your local grocery stores or online – look for the label!
Now for that last part of this imperative about daylight, views, and people interacting with their spaces. I've created a motto for myself that I'll be using when I become a licensed architect: you shouldn't have to turn the lights on when it's sunny. Again, this just seems like common sense to me. If you have to turn the lights on while the sun is out, then something wasn't designed correctly. Even if you can't get a big enough window in that space to properly light it, then you could use a solar tube! And that's exactly what Shelby and I intend to do with this home. EVERY normally occupied room will have plenty of natural light through large windows, skylights, and solar tubes. And just as the imperative states, the living room, bedrooms and kitchen will have operable windows. Not only will occupants have direct control over their windows, but each room will also have it's own dedicated thermostat to customize the temperature.
The last imperative of the Health and Happiness petal, Access to Nature Imperative, simply requires that all occupants have the opportunity to interact with nature through the interior and exterior of the building, and that the health benefits of such can be evaluated within six to twelve months after the building is occupied.6
How the Access to Nature Imperative will impact us and The Seed:
This imperative sounds easy, yet challenging. Given that Shelby and I will be living in a forest, all of our windows that I just mentioned will provide access to nature while inside the building, and one step outside will definitely surround you in the wilderness. We also intend to have plants indoors, bare cross laminated timber walls, and maybe even bark on our walls here and there for some pzaz…Oh! And moss for Shelby. 
Things get tricky though when we try to evaluate the health benefits. Shelby and I already live in the woods, so that much won't change, and there will be so many other things that I mentioned above that should keep us healthy in this house – how will we know that our materials and views made that difference? Maybe we'll have to invite some friends from the city to stay awhile and test it…for our urban dwellers, consider this "the call of the wild." Message below if interested.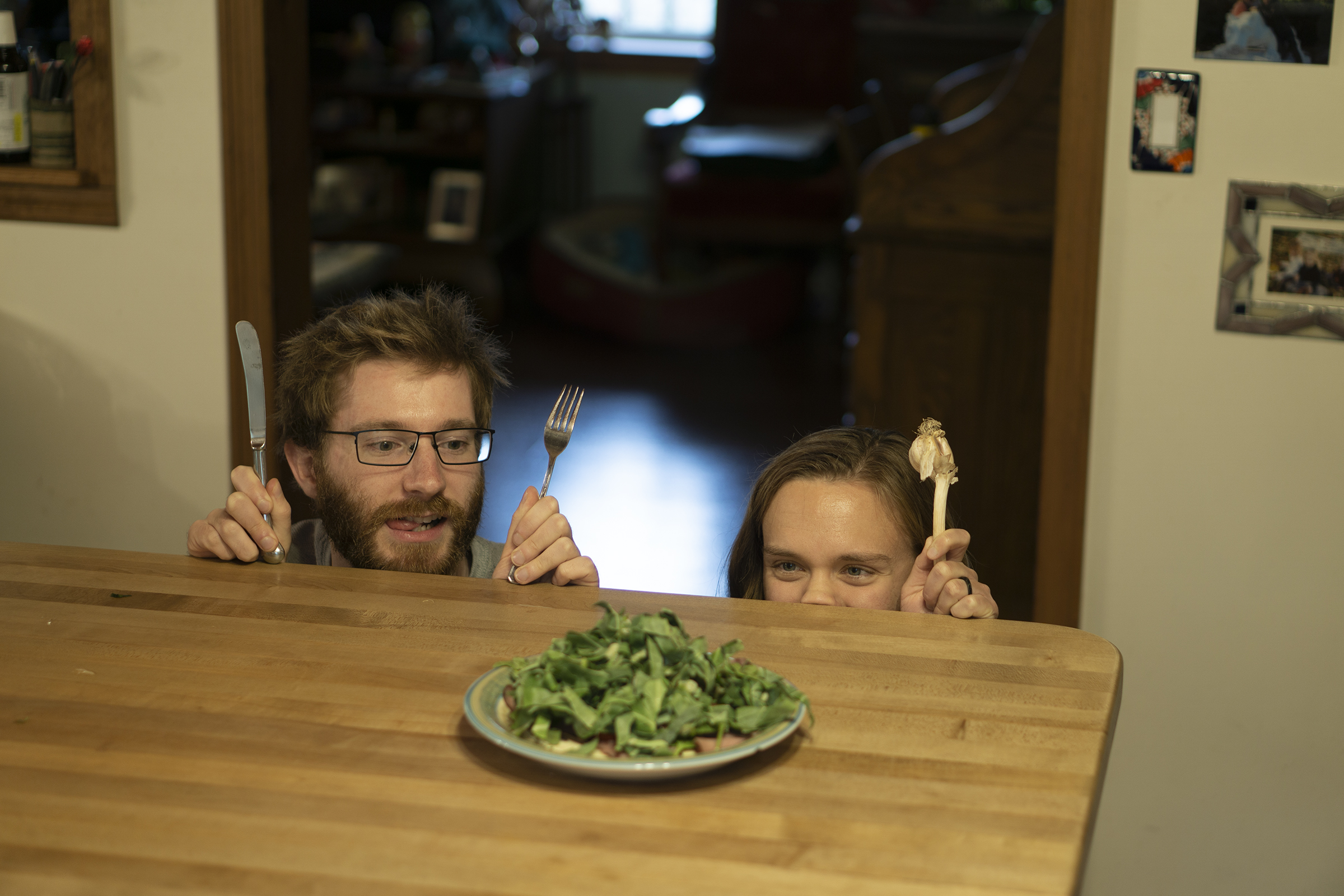 Health on a plate, happiness in our hearts!
Well, there you have it! How to make a healthy home filled with health and happiness, according to the Living Future Institute. Shelby and I think every home should be this way and intend to prove it's not hard to do, and we're excited to share it with everyone!
That's all for today folks,
William Aldrich
1.  International Living Future Institute. Living Building Challenge, Version 4.0, Seattle, 2019. Page 46.
2. I know, imagine how fun their meetings are…
3. ANSI/ASHRAE. "Ventilation for Acceptable Indoor Air Quality," Standard 62.1-2019. Standards 62.1 & 62.2 (ashrae.org). Accessed on 1 December 2020.
4. International Living Future Institute. Living Building Challenge, Version 4.0 Petal Handbooks, Seattle, 01 October 2020. Page 230.
5. Living Building Challenge, Version 4.0, Page 47.
6. Living Building Challenge, Version 4.0, Page 48.