Presentation to Pittsburgh Living Future Collaborative
Dear Readers,
William and I recently presented The Seed to an incredible group of experienced, sustainable building enthusiasts, the Pittsburgh Living Future Collaborative. They were wonderfully welcoming and had some great insights and feedback on our future home. We are very thankful, and humbled, that we had the opportunity to show and tell our project!
We have decided to present to you, dear readers, our presentation for two reasons. One, it condenses our seven Living Building Challenge blogs into a 29-slide presentation as to how our home is currently attempting to meet those seven petals. Two, it gives a great visual update on our home's current design.
So, without further ado…
Welcome, to The Seed in Brief!…as of February 2021.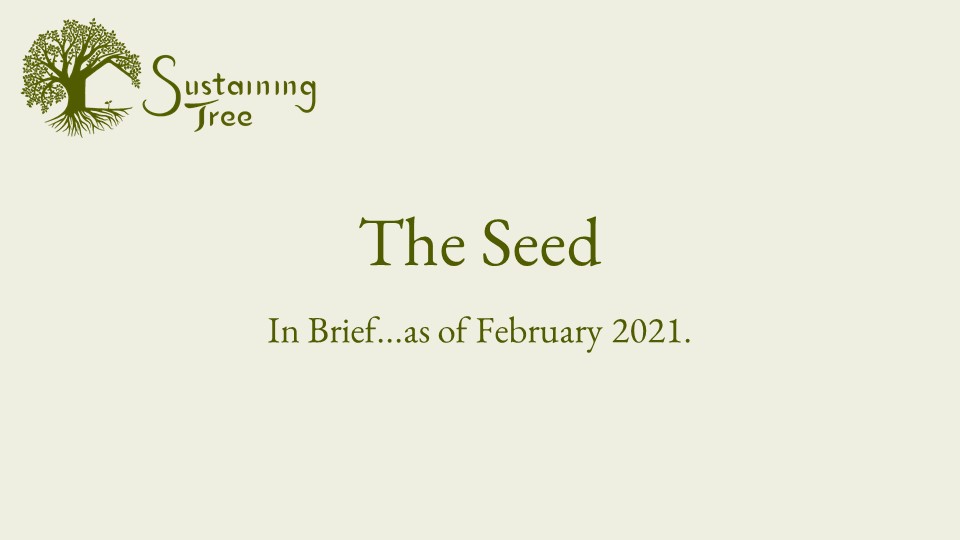 Our presentation goes over our home as it corelates to the Living Building Challenge's seven petals. But before we delve into the petals, we would like to express our overall intent with The Seed.
We intend for our home to be more than just a home…we want it to be a prototype for a future endeavor.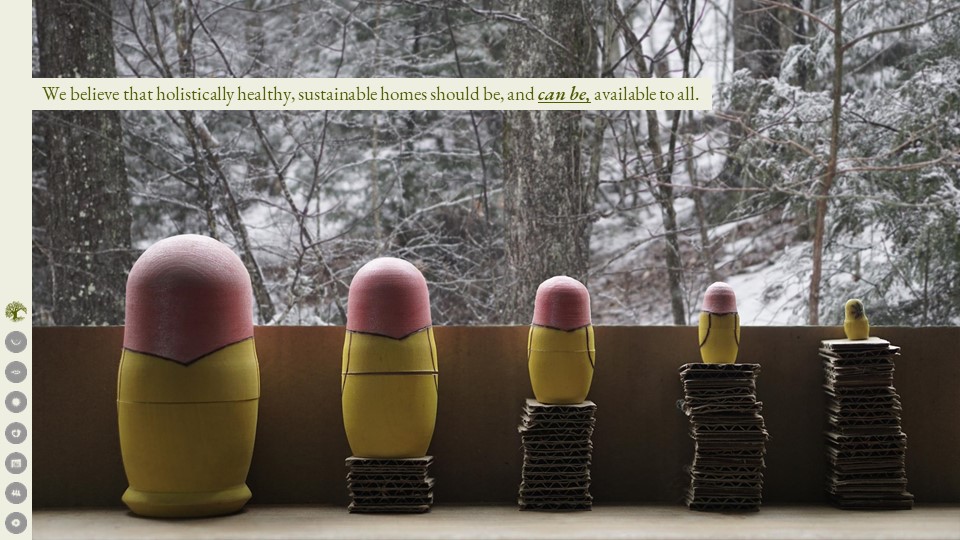 We of course want to live in a home that is healthy for our future family, as well as the earth we all live on. But we also believe that holistically healthy, sustainable homes should be, and can be available to all. Soooo….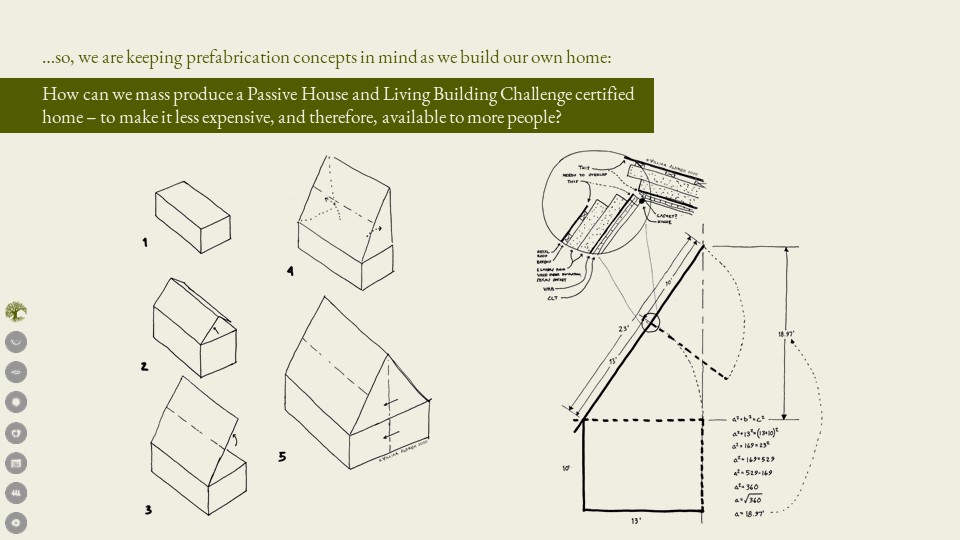 …We are keeping prefabrication concepts in mind as we build our own home. We are attempting to answer the question of how can we mass produce a Passive House and Living Building Challenge certified home to make it less expensive, and available to more people?
In order for these kinds of homes…this mentality of sustainable building and living…to become the norm, they must be made affordable to more people.
Please note, our home will not  be prefabricated. We are just keeping these ideas and concepts in mind as we do design and build The Seed.
Kudos to The Block Project for already pursuing such an initiative!!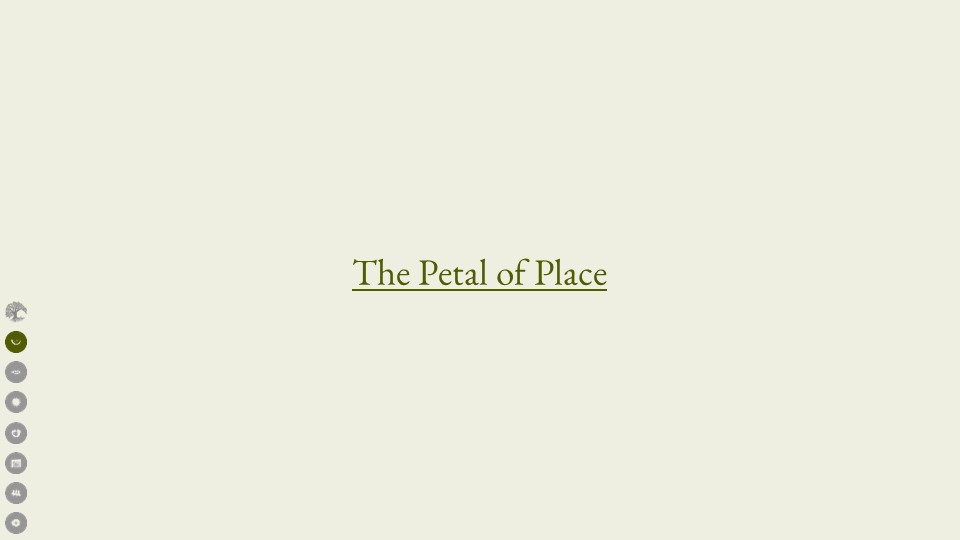 Moving to the first Petal, the Petal of Place!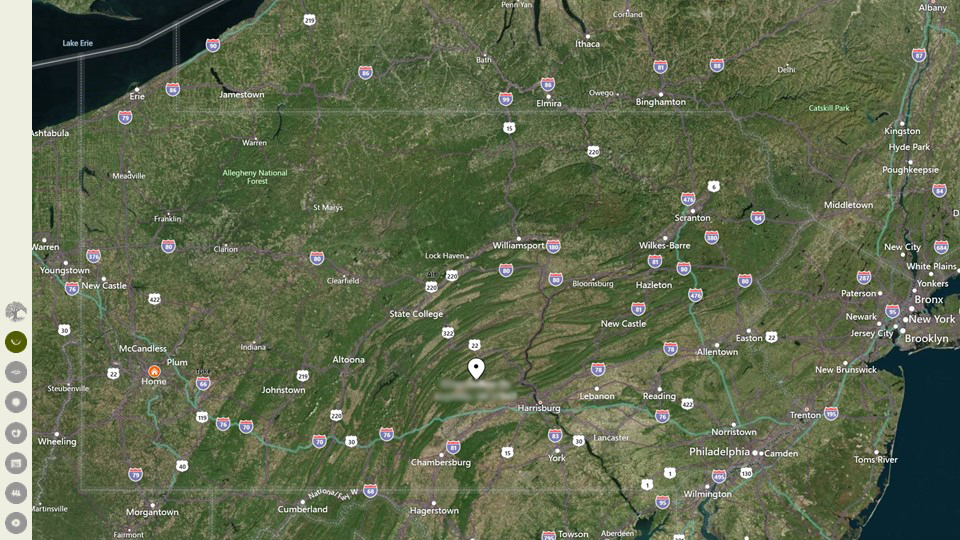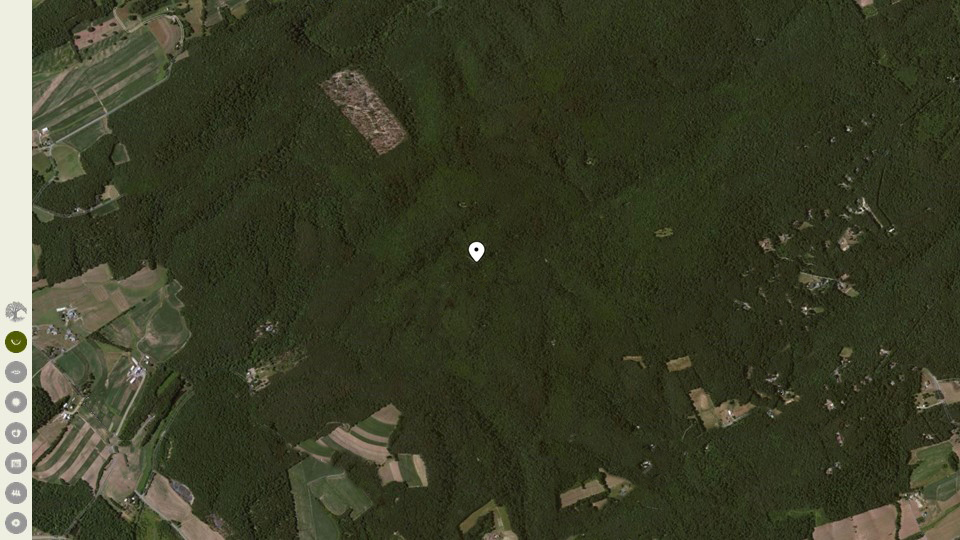 The Seed will be located in South Central Pennsylvania in a rural, wooded area.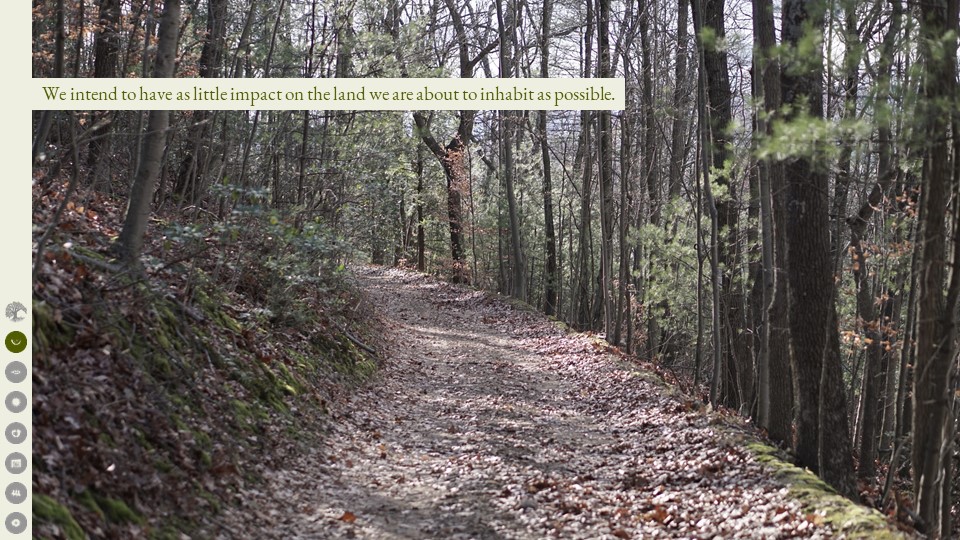 We are getting to know the trees, vegetation, and wildlife that are on our land. We are using the American Forest Foundation's "My Land Plan" as a resource.
We will not have a yard in order to preserve the forest. Our driveway will be permeable.
The above photo is not our driveway. That is the 1.5 mile road that leads to our property, as well as to the few other permanent residents in this wooded area. We have already been in communication with our potential Cross Laminated Timber provider on the realities of getting the CLT panels to the site.
We will grow our own food. Perhaps a vertical wall garden to maximize space efficiency on forest land? And/or straw bale garden?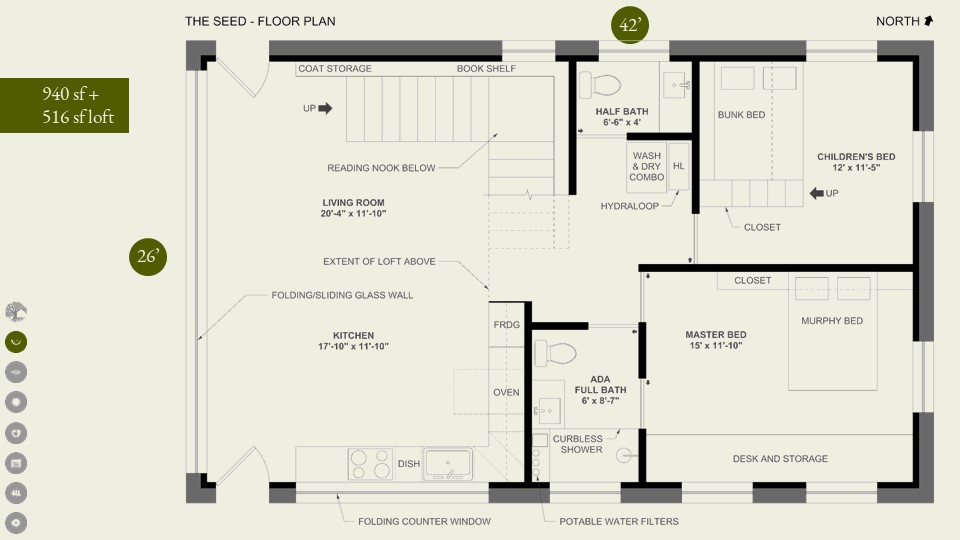 Our home's overall footprint will be small, and we are attempting to make efficient use of small spaces for an anticipated family of five (as in us and maybe 3 children), while still maintaining ADA accessibility.
There will be a loft area (not wheelchair accessible, but stairs are of course ADA)~ this space is undefined at the moment. It will mostly be for our solar battery and ventilation system, and potentially extra bedroom space/play area for the kids.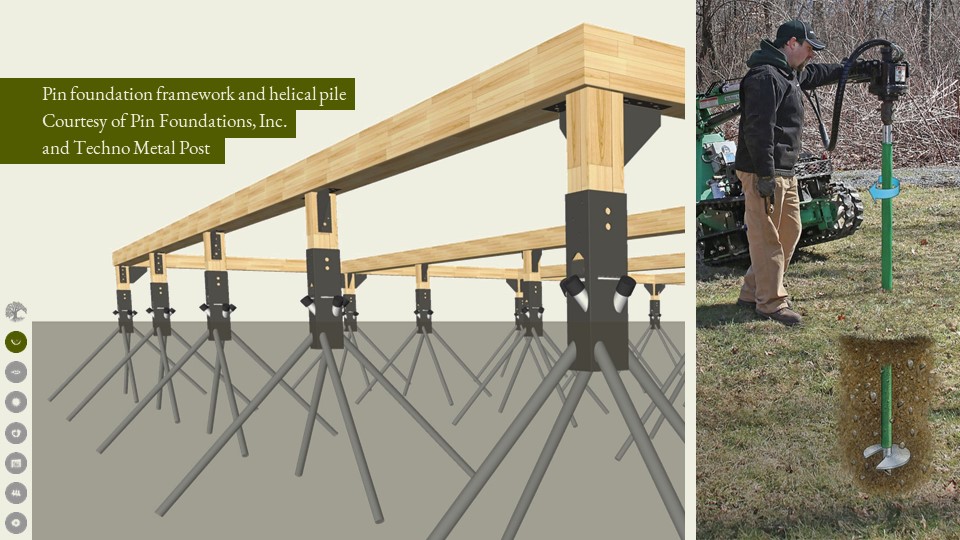 We aim to use a pin or helical pile foundation, which would create less of an impact on soil integrity and groundwater flows.
Also ideal for prefabrication purposes because you don't have to dig a foundation.
The pin foundation only requires a jackhammer and a couple people~ so, relatively easy and quick to install. However, in our shale-prone area, may not be ideal.
A helical pile foundation is a little more involved and does require a machine~ but the machine is designed to be small in the attempt to make as little impact to the land as possible during installation. And, helical piles can handle penetrating shale!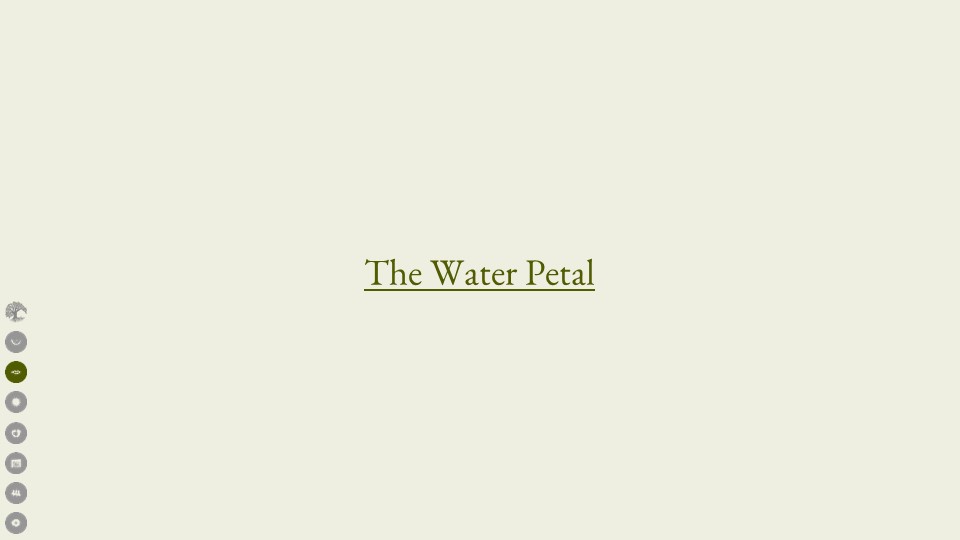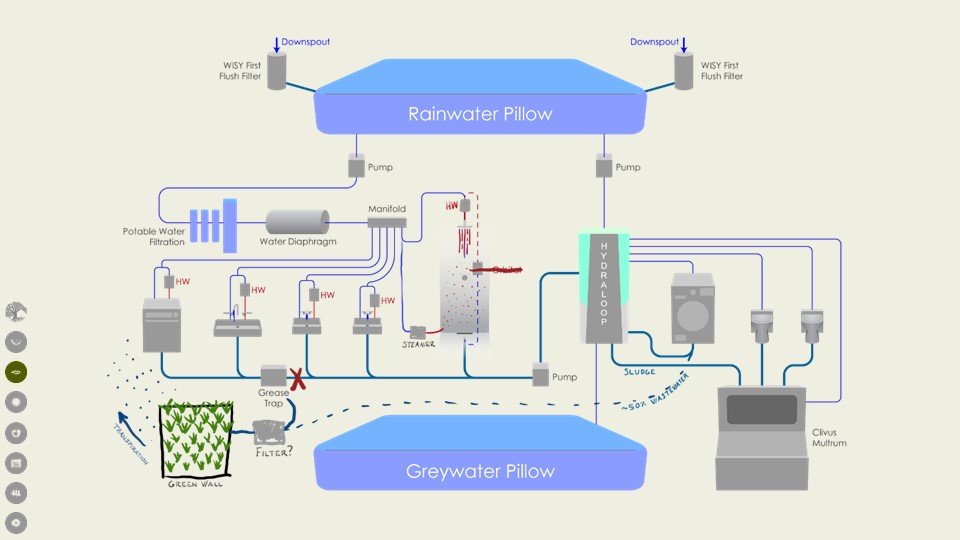 We are going to rely on rainwater collection with our rainwater pillow system for 100% of our water needs.
From the rainwater pillow, the water will be sent through a 4-stage filtration: 20 micron filter, 5 micron filter, .5 micron charcoal block, and U.V. light.
From filtration, the water will be sent to our dishwasher, kitchen sink, bathroom sinks, steamer, and shower.
This nifty little idea behind the steamer: We originally were looking into the Orbital Shower, which filters and reuses bathing water when the user is showering, eliminating excess water waste. But, it was not water efficient enough~ A 10 minute shower still used 7.9 gallons of water. So! Instead, we are now looking at a push button shower (similar to ones used on campsites, that run for about 45 seconds, and then turn off) and a Mr. Steam~ thereby turning our shower into a sauna.
The idea is, that you only need the water running from the shower head to initially get yourself wet, and then to rinse yourself off. If the shower room is comfortably warm while you soap yourself up, shave, etc., then you don't need to let the shower run the whole time, and you use less water in the end. The steamer only uses 1 gallon of water for a 20 minute 'shower/steam.'
From the sauna/shower and bathroom sinks, the wastewater will be sent to the Hydraloop.
The Hydraloop will allow us to treat our bathroom sinks and sauna/shower greywater on-site, and allow us to reuse that water for our clothes washing machine, flushing the foam flush Clivus Multrum composting toilets (use only 6 oz of water per flush), and to irrigate the outdoor garden.
Side Note: Hydraloop combines six different technologies- sedimentation, floatation, dissolved air floatation, foam fractionation, an aerobic bioreactor, and disinfection of the cleaned water with powerful UV light. By PA Code 73.32, Standards for Aerobic Treatment Tanks, we are hoping the Hydraloop will qualify as an acceptable form of greywater treatment.1
The Hydraloop holds 80 gallons of filtered greywater, and when we need to do a load of laundry or flush a toilet, it comes from there.
Any excess filtered greywater will go to our greywater pillow, which will be hooked up for outdoor use: washing cars, irrigating garden.
We are having difficulty figuring out what to do with the sludge the Hydraloop creates as a biproduct from the filtration system. Based upon inputs (bathroom sinks/shower), we are assuming the outputs would be mostly hair and soap scum. We are wondering if we could perhaps put the sludge in the Clivus Multrum composting tank?
Also, when reusing water for laundry, the Hydraloop is designed to send 50% of it to the sewer…we are hoping to send that 50% to our indoor greywater garden/ green wall instead. We are currently having ongoing conversations with both Clivus Multrum and Hydraloop on these inquiries.
We are also having difficulty in finding a way to treat our kitchen sink and dishwasher water on-site while still adhering to code (since kitchen greywater is often seen as black water due to it being so nutrient rich). We want to send our kitchen water through a grease trap, and then through some kind of filter, and then to a greywater garden wall~ similar to what the Bertschi School, a Living Building Case study, did. But, we are not able to find any filtration units that are willing to treat greywater (as you can see, we originally were hoping on the Hydraloop for that one). And Gsky, the people who did the green wall for the Bertschi School, wants the kitchen water to be filtered before going through their garden wall.
Here are some of our systems: Clivus Multrum composting toilets, greywater garden wall, Hydraloop, Mr. Steam. The Mr. Steam really shows how saving water can become a luxury…not to mention all of the health benefits saunas have been claimed to have~ especially if you include aromatherapy.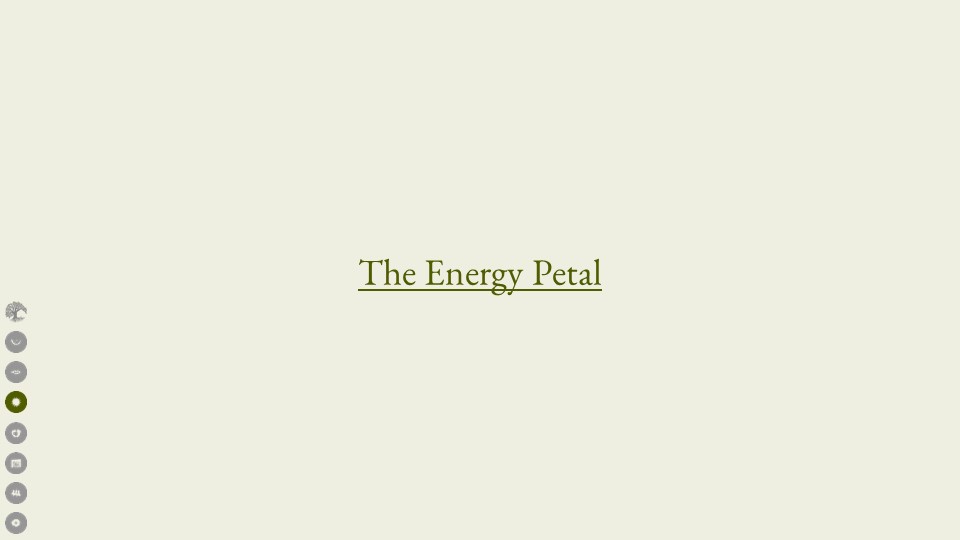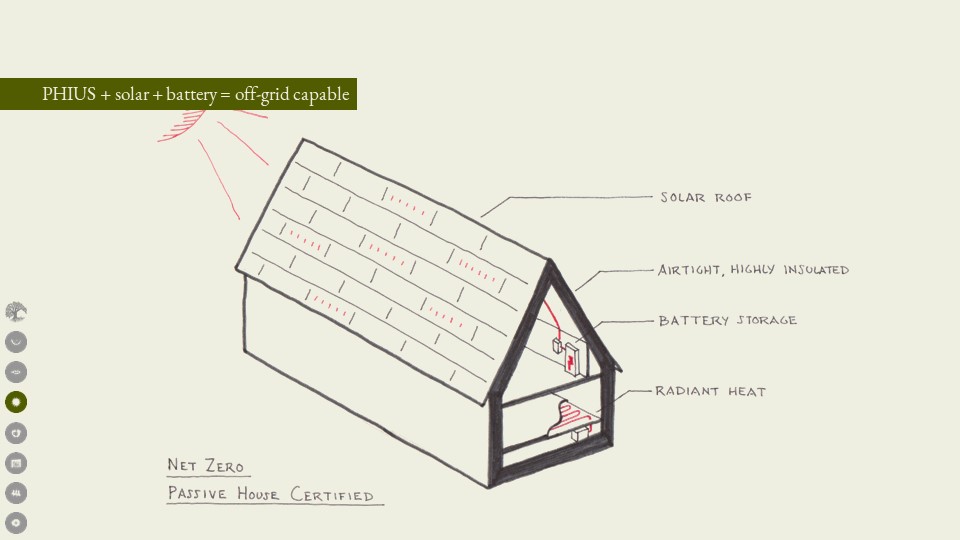 We are designing our home to meet Passive House (PHIUS) standards, so our home will be built to support energy efficiency. 
Being a Passive House, the home will be air tight, highly insulated, and have an advanced ventilation system. 
Meeting PHIUS standards in combination with on-site solar roof with battery storage, should give us the potential to be off-grid.
We will also intend to have a 'brain' or 'smart home systems' in our home which will keep track of our energy and water consumption, as well as the status of how much water we have left in our pillow and energy left in our battery.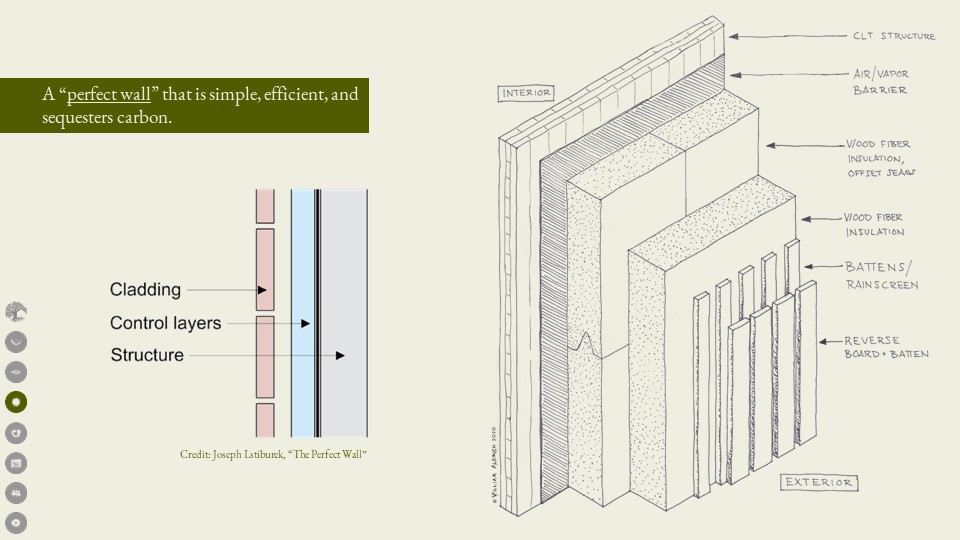 Looking at our wall section, our Cross Laminated Timber (CLT), wood fiber insulation, and (maybe!) bark shingles will help us achieve the net positive carbon imperative, 'the perfect wall', as well as the goal of using the whole tree!
Side Note: The bark shingles are not shown on this wall sketch, as they were a recently found material. 
Using the 'whole tree': CLT can be made from lumber which is less desirable to timber companies like diseased and smaller diameter trees, wood fiber insulation can be made from sawmill saw dust remains, and bark shingles are taken off of already felled trees for timber~ reusing an otherwise wasted resource.
Building 'the perfect wall': a strategic layering and ordering of a home's envelope.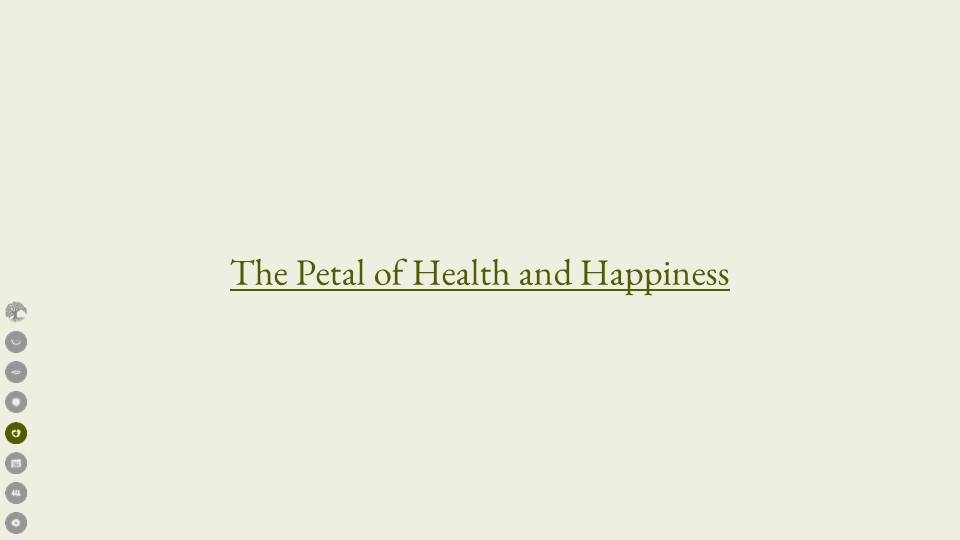 Will use an Energy Recovery Ventilator to maintain temperature and (especially with a greywater garden wall and sauna) humidity.
We will have lots of windows providing natural light and access to nature. 
The cleaning products we use will be safe, not only because they impact our air quality and human health, but because it will have to pass through our greywater system.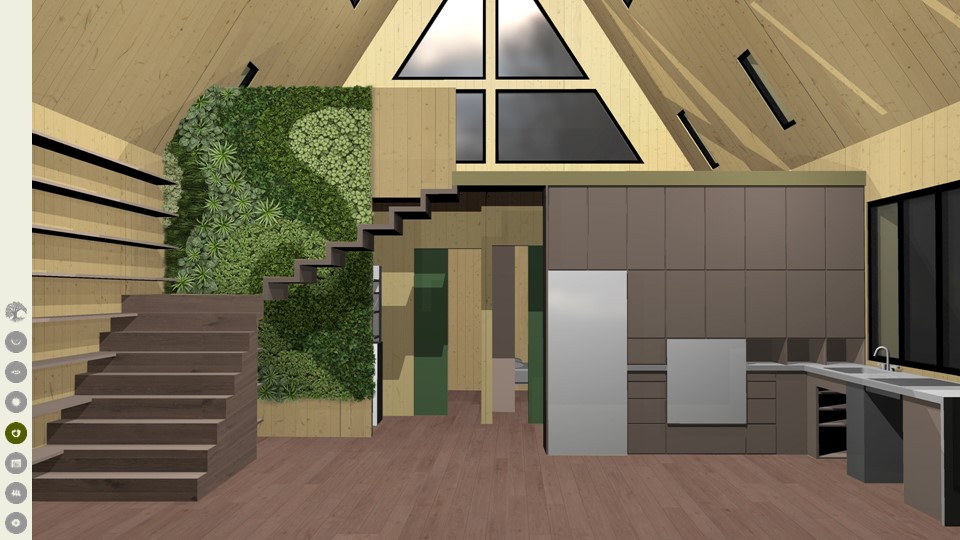 A rough render of our home's interior. You can see the exposed CLT as well as an example of what our greywater garden wall may look like. 
Side Note: If you read last week's blog, then you will know that our original idea with the greywater garden was to make it part of our staircase railings. However, after speaking with GSky, we became aware that staircase railings would not provide a sufficient amount of structural support to a green wall system. So, from the space we could find, as of now, in our home…this is where we are thinking of putting it!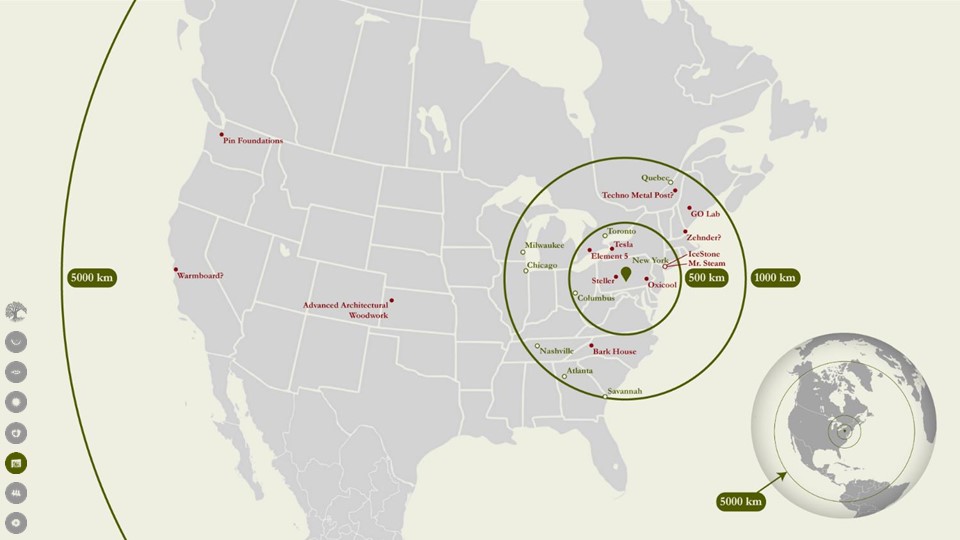 Not all of our currently anticipated material providers are shown on the map. But we are of course aiming to use locally sourced materials.
We did look into Wythe Windows~ a Passive House window manufacturer right in New Jersey! And they were wonderfully helpful, and honest…their windows do use UPVC, however (PVC is a Red List Chemical).
But! they did refer us to Smartwin~ aluminum cladded wood PH certified windows and doors which, domestically, are manufactured by Advantage Architectural Woodwork, LLC in Colby, Kansas.
Also, of the wood products used, we will strive to use 100% Forest Stewardship Council products and aim to achieve FSC Project Certification~idea of using the whole tree.
Locations on map:
Bark House: Spruce Pine, North Carolina. Bark siding….
Side Note on Bark House: Actually still debating on these guys for the pure building complexity aspect~ time intensive and not ideal for prefabrication. But they really are a very admirable business…they get 90% of bark within 50 miles and 100% within 500 miles of their location…they renovated an old service station for their headquarters…And! They work with loggers and local land owners to ensure regenerative harvesting methods.
Element5 Co.: Toronto, Ontario. CLT.
Steller Floors: Tyrone, Pennsylvania. Floating hardwood floors.
Oxicool: Malvern, Pennsylvania. Air Conditioning…with water as its only refrigerant!
Go Lab: Madison, Maine. Wood Fiber Insulation.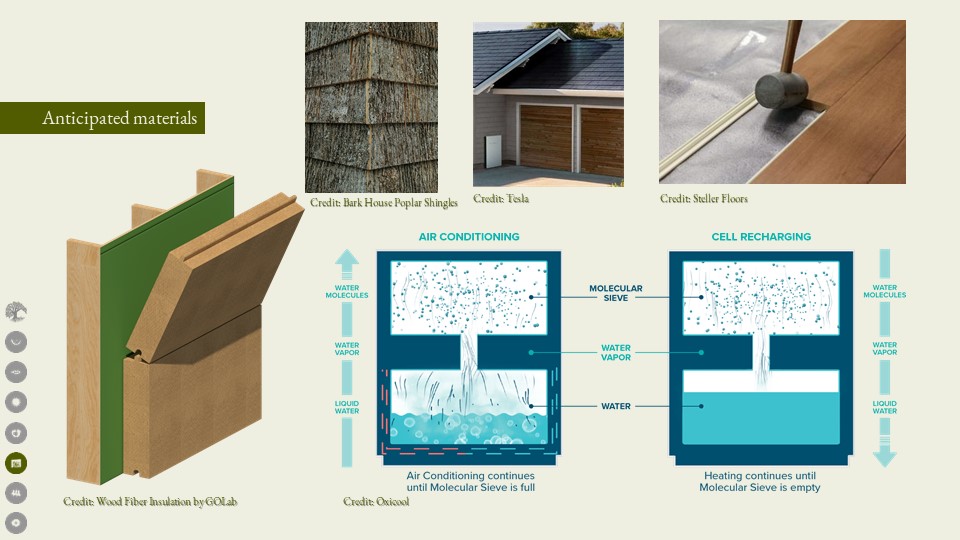 The life cycle of our home will be taken into consideration. We want to build our home to last as long as possible in the first place, but we also want to make sure the individual materials we use are compostable or recyclable.
We are also attempting to put things together in a manner that they can be decisively and easily taken apart later.
For example, Steller Floors' hard wood floor floating technology is easy to put down, and easy to take up!
Also seen above are GOLab's continuous wood fiber board insulation, Oxicool's air conditioning system (which just uses water~ no refrigerants!), Tesla's solar roof (glass solar shingles also potentially ideal for roof rainwater harvesting), and Bark House Poplar Shingle Siding (they are kiln dried and no need to put a finish on them, and therefore entirely biodegradable).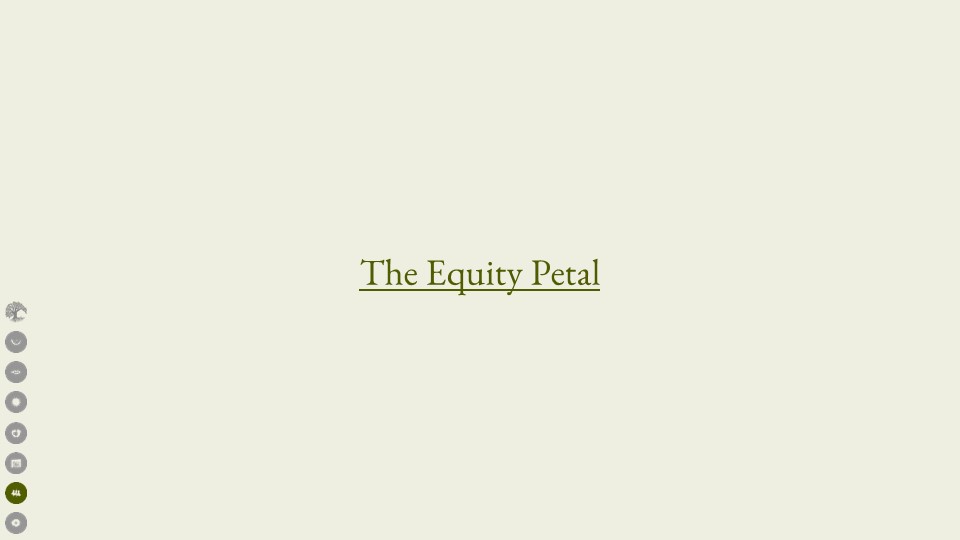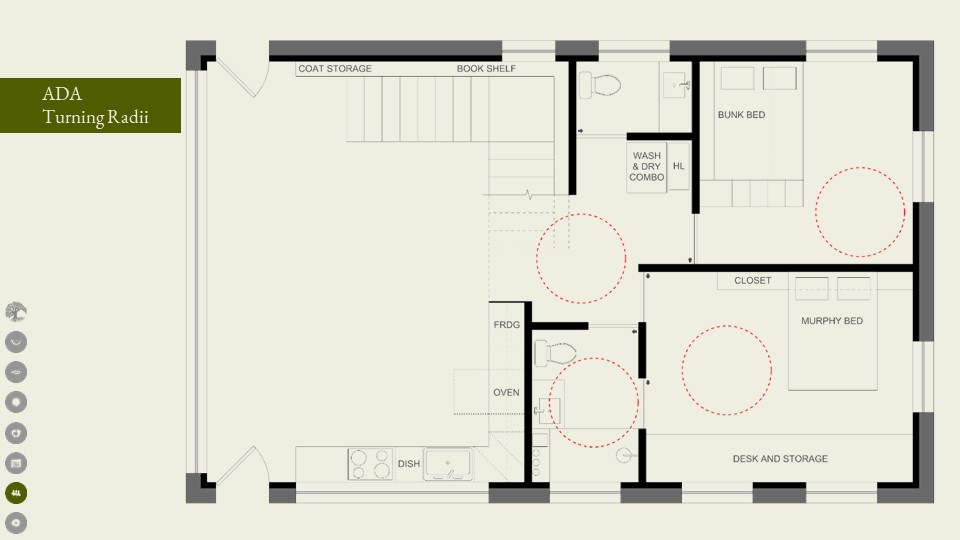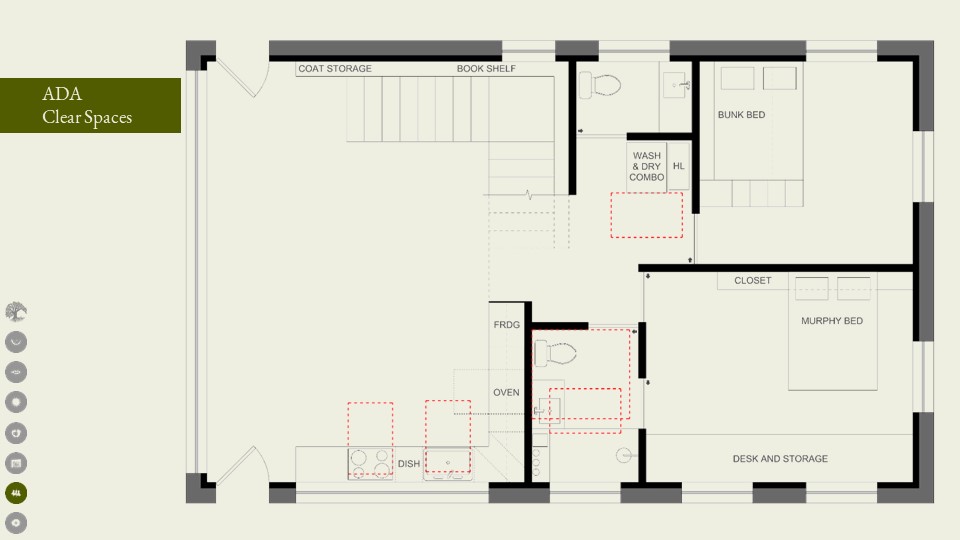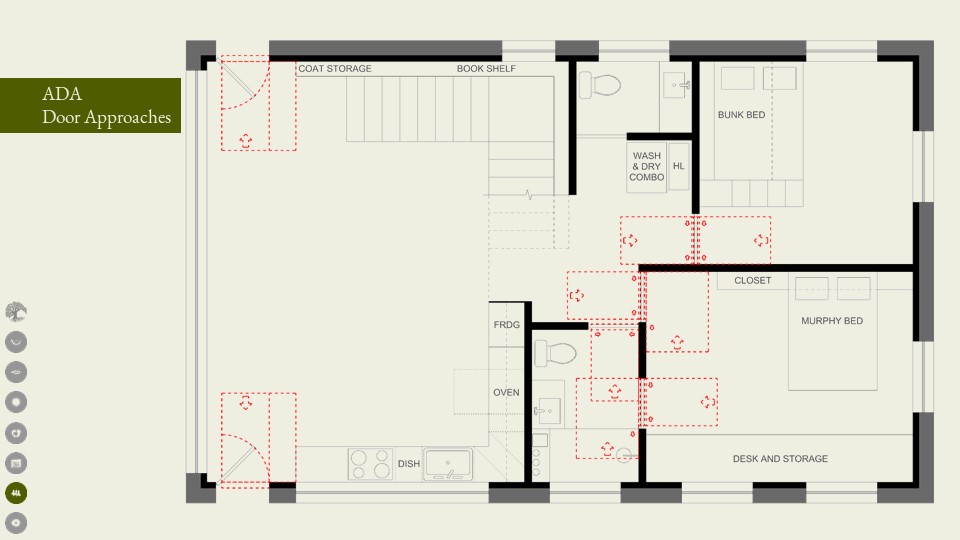 We are designing our home to be ADA accessible.
Again, we do have a loft space, which is not wheelchair accessible, but the stairs are to ADA standards.
We do only have one bathroom that is ADA compliant~ the master bathroom, which also has the sauna, of course!
As for the Inclusion Imperative…we are still pondering on how to meet that one~ we are fairly rural. However, Harrisburg, Carlisle, and Mechanicsburg are all within 45 minutes to an hour away. 
We want to employ A2 Master Carpenters to help us build our home. They are a small two-man team, and the owner of this business is William's father. Building The Seed will be a learning experience for them as well, but they do have a huge, positive, impact on our small-town local community and could help spread the sustainable building initiative.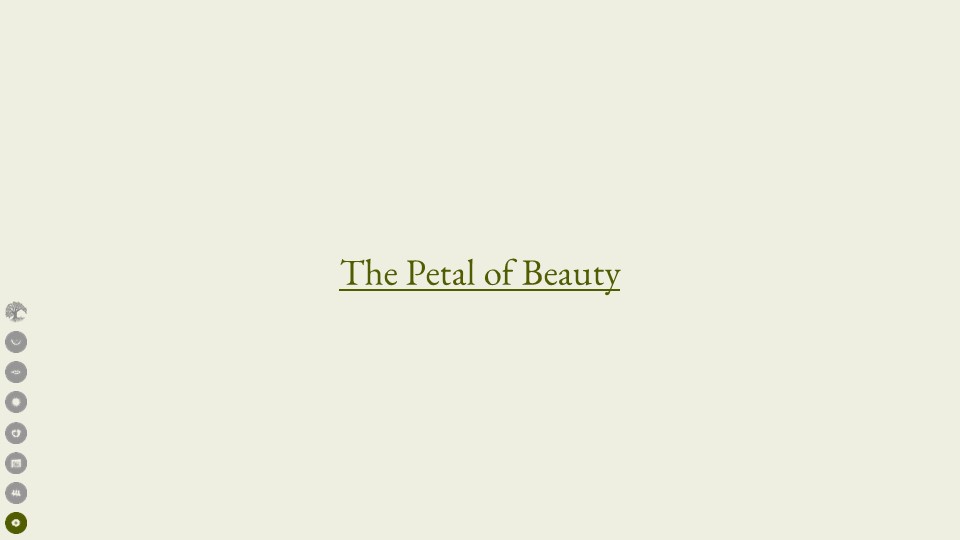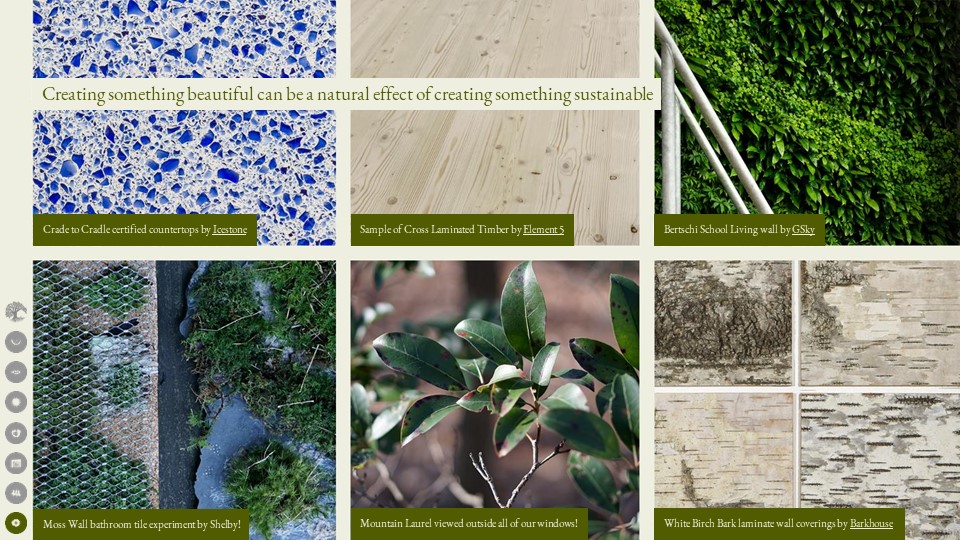 We believe that creating something beautiful can be a natural effect of creating something sustainable. 
Above you can see cradle to cradle certified glass countertops by Icestone, cross laminated timber by Element5, an example of an indoor greywater garden wall, moss tiles from my moss tile experiment, a picture of Mountain Laurel in the fall, and Birch Bark wall coverings by Bark House. 
We would love to use our home as a way to collaborate with our local, rural community and make sustainable building and living possible. We would like to create educational programs and tours for our local k-12 schools here in Perry County, as well as with colleges not too far away- Dickinson, Juniata, Penn State. 
We live in a beautiful area, but keeping it beautiful will require advocacy, education, and a new way of home building.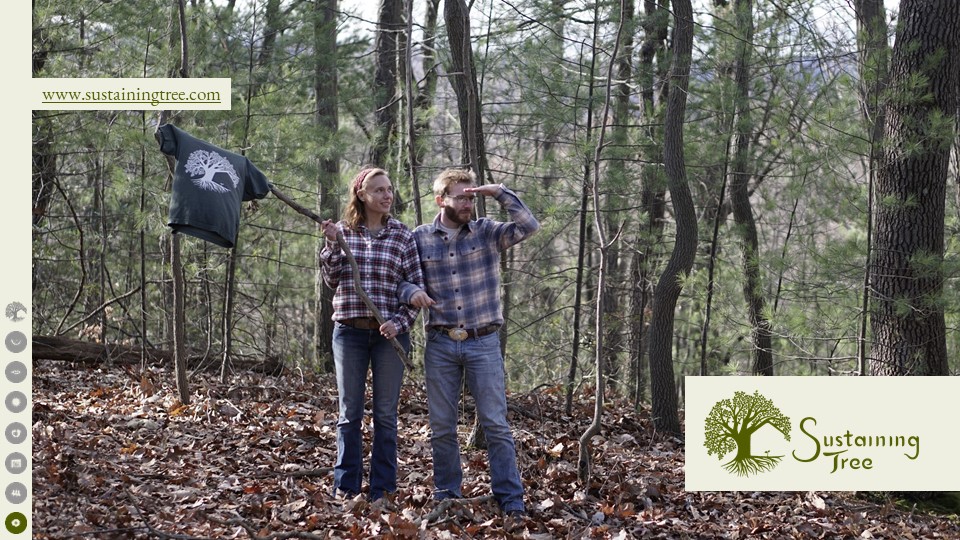 And! We already have a website with the goal to share our research and inspire dialogue on sustainable building initiatives.
~
That, right there, was technically the end of the presentation. But it was just the beginning of all of the work and learning and adventures yet to come.
As always, thank you for reading!!!!
Sincerely,
Shelby and William Aldrich