Redwood Materials~ A Way to Recycle Batteries!
Dear Readers, 
My Samsung Galaxy J3 V is a beast. It continues to withstand a high level of wear and tear with me as its owner. I wear it on my running belt in the snow. In the pouring rain. In high temperature heats that are probably unsafe for me to be running in… 
I have dropped it on concrete. Down the steps. It has bounced off the toilet. It has even withstood multiple catastrophic events of me simply animatedly walking while swinging my arms: when my one arm holding the phone swings too energetically into my leg…or a wall…or another person, and the phone has gone S.A.I.L.I.N.G. No case. Just one disheveled screen protector that is as old as the phone. 
And you know the best part about this indestructible piece of technology?
It is a hand-me down. 
The phone was originally my mom's. She felt it had gotten too old and wanted a new one, so she gave me this gem of a device back in the summer of 2018. That was three and a half years ago. Wanna know what's EVEN BETTER? My mom originally got the phone refurbished. I have no idea how old this phone actually is…but I'm betting it'll last until our first child needs a phone. Which is perfect. The Samsung Galaxy J3 V will officially become a family heirloom. 
The reality is though…unfortunately…that I'll probably accidentally drop the phone out of my truck window tomorrow. Officially reaching its capacity for abuse, the phone will die. And then what do I do with it?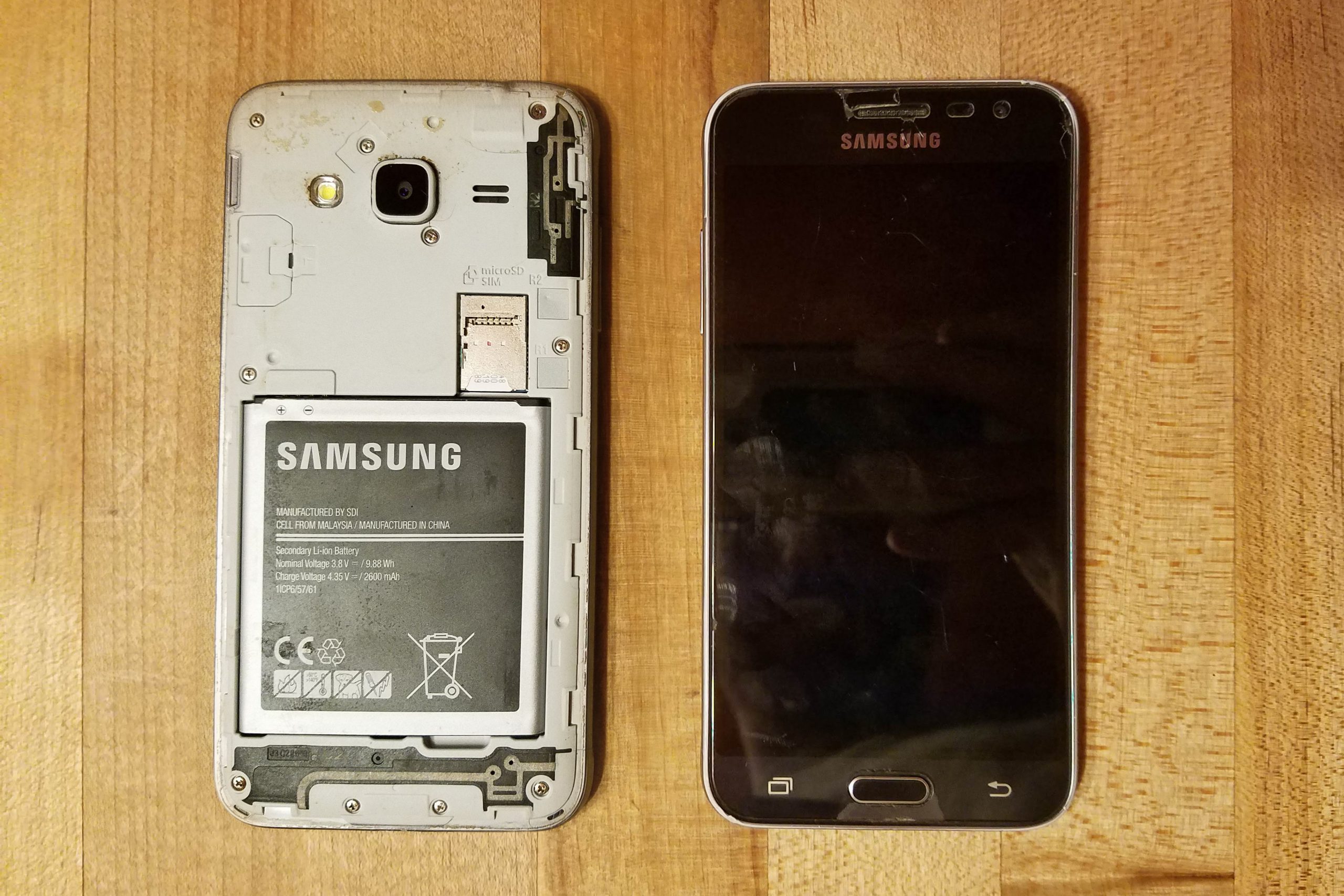 My well-loved and very well-used Samsung Galaxy J3 V
Thank goodness for William and his preemptive-ness, because he already found a place I can ship the phone and its lithium-ion battery off to be recycled: Redwood Materials. 
Redwood Materials will also accept your laptop and its lithium-ion battery for recycling. Annnnddd your tablet, power tools, electric toothbrush, AND your wireless headphones….basically, anything with a lithium-ion battery, Redwood will accept.1 
For all lithium-ion products and batteries that are in need of recycling (except for those EV car batteries…) you can package and send them to: 
Redwood Materials
Attn: Consumer Program
2401 Conestoga Dr. 
Carson City, NV 89706
See "How do I ship and package batteries?" for more information on how to…well, ship and package your batteries… 🙂
For those who own electric vehicles, I sincerely hope your vehicle has the same (or better!) longevity as my Samsung. And when your car does eventually tire of your animated driving, bouncing off toilet seats, and driving down staircases, Redwood Materials is preparing to be prepared to take your electric vehicle's lithium-ion battery too 🙂 
As far as an individual EV owner recycling their car, creating an infrastructure for recycling EV lithium-ion car batteries is still seemingly in progress. We did contact Redwood Materials directly on how an individual EV owner could recycle their car's battery with them. However, as of the date this blog was posted, we have not yet received a response. We will of course update this blog once we do! 
While there does not seem to be a clear-cut and simple way for individual car owners to recycle their lithium-ion batteries with Redwood Materials, there sure does seem like an infrastructure will be in place in the not too distant future! Redwood Materials and Ford are working together to create a closed loop cycle in electric vehicle manufacturing.2 They are creating a way to efficiently recycle end-of-life vehicles and EV lithium-ion batteries. Once this infrastructure has been established, individual (Ford) car owners may indeed have a way to easily recycle that valuable hunk of metals and materials sitting in the driveway. As Redwood does expand their EV battery recycling capacities, hopefully more EV manufacturers will partner with them as well…including my EV crush, Rivian 😉
Key materials and chemicals that Redwood focuses on recovering from the products and lithium-ion batteries sent to their facility are: lithium, nickel, copper, gold, silver, cobalt, tin, palladium, tantalum, neodymium, and carbon.3 
On average, 95% of the materials specifically in a lithium-ion battery alone can be recovered and sent "directly back into the supply chain to make batteries for new electric vehicles and energy storage products."4 Those reclaimed materials from a lithium-ion battery include nickel, cobalt, copper, aluminum, lithium, and graphite. 
 While I dread the day when my Samsung says "goodbye" and traverses to the great technological unknown…my heart will be happy to know that it is not going into a landfill. Rather, it will be reborn as the battery for my yellow Rivian. 
Thanks for reading! 
Shelby