T-Shirts from Printful and Bella+Canvas
Dear Readers,
William and I want t-shirts with our Sustaining Tree name and logo on them. Mostly for ourselves. Because we are egotistical and vain and want to wear our endeavor literally on our tummies. But, if you feel like purchasing a shirt for yourself and modeling our tree on your tummy, then we figured we might as well make that option available to you!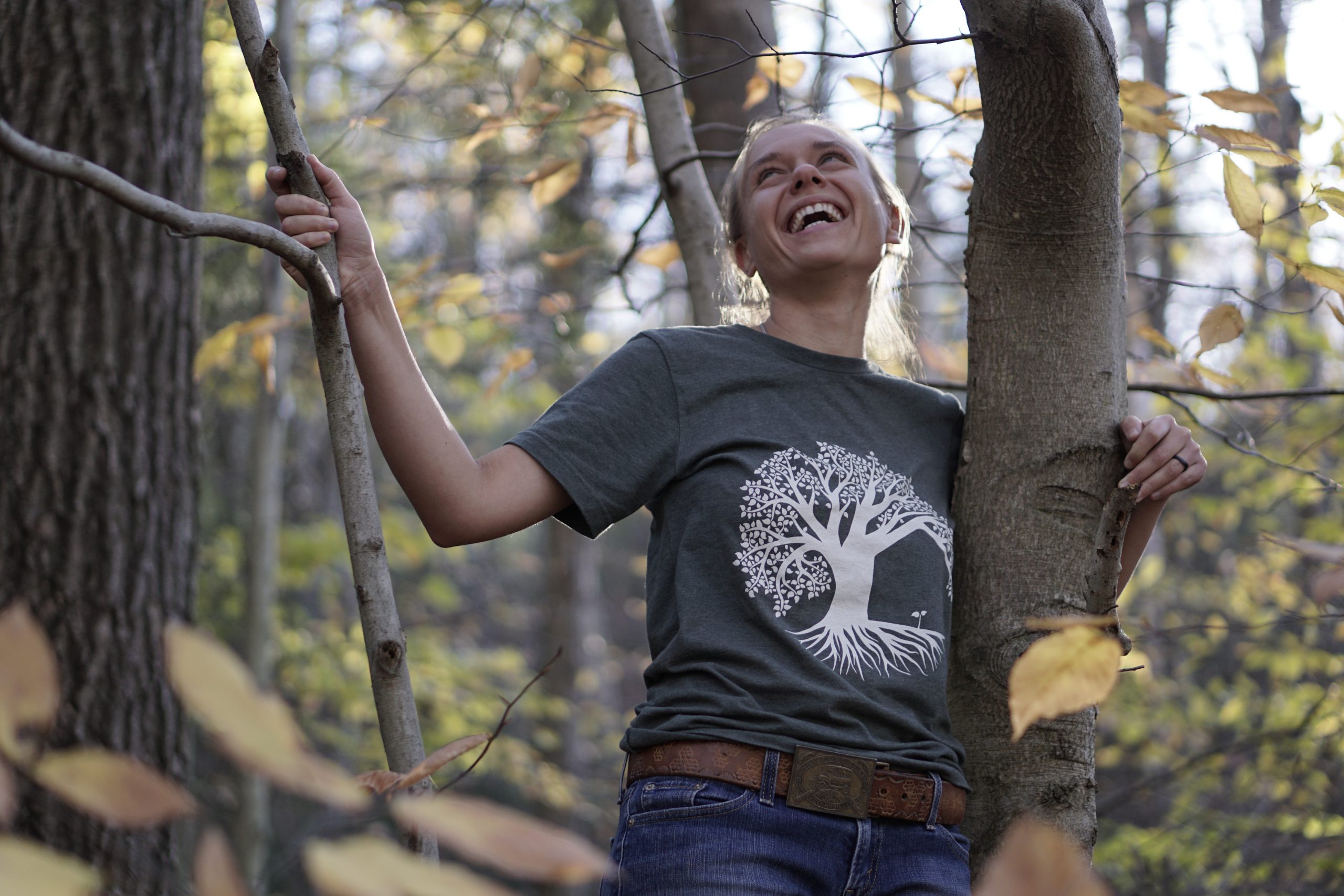 Large Logo Bella + Canvas T-shirt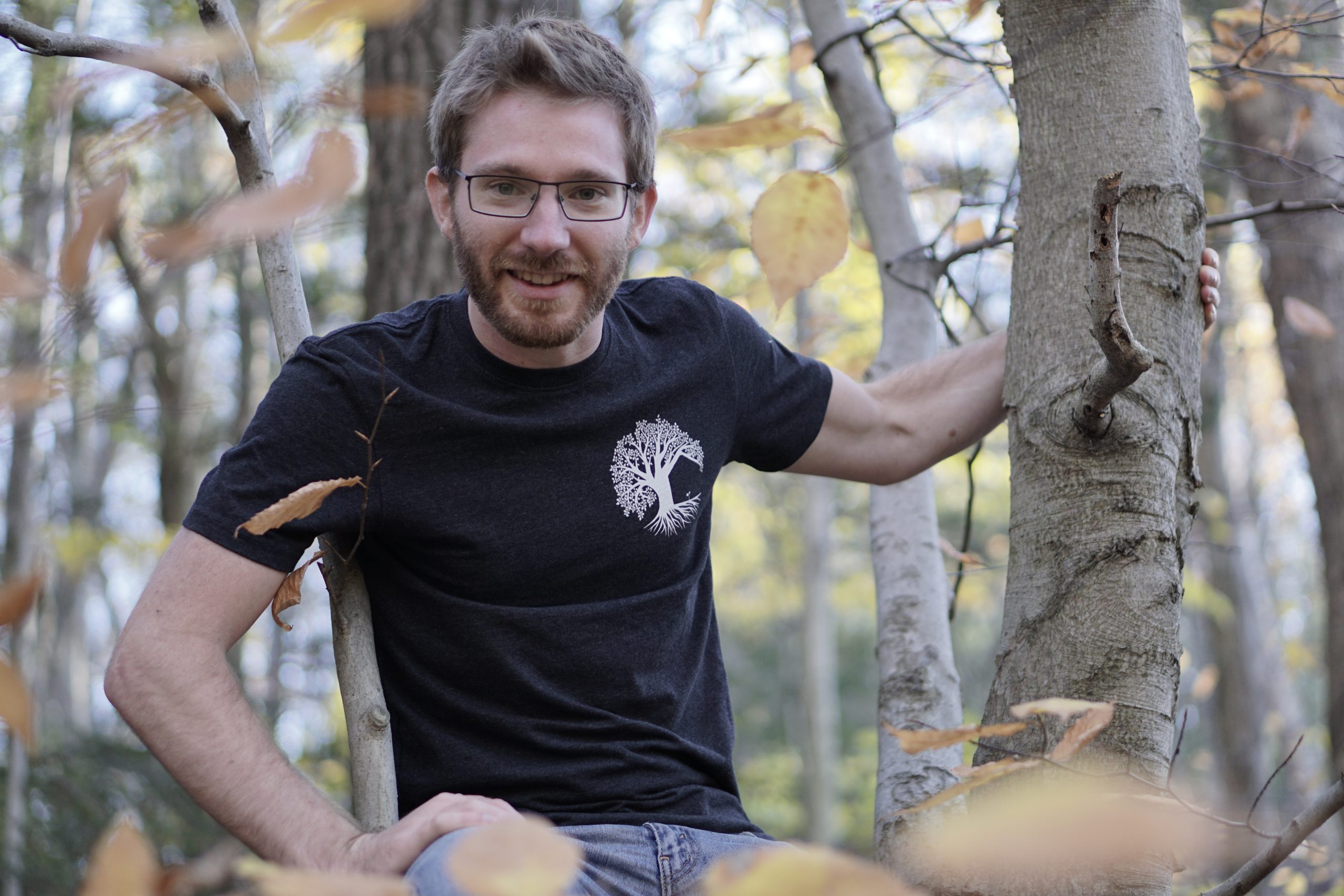 Small Logo (obviously not on the Tummy) Recycled T-shirt
However, being us…the perhaps extreme idealists that we are…we want our shirts to be as environmentally and socially and internationally and community friendly as possible. I didn't quite realize how tough that is to do…
We are deciding to go through Printful (a print on demand service) for our shirts for three main reasons: 
I don't want to bulk order a bunch of t-shirts with trees on the tummy to have them just sit around the house waiting to be ordered. William and I very well may be the only ones who want trees on our tummies, and having so many unwanted, unworn, t-shirts laying around seems like a waste…of a lot of things. 

If you

do

happen to want a tree on your tummy,

I

don't want to go through the hassle of mailing it to you. The post office is a 15 to 20 minute drive away (depends if I have to stop to save a turtle crossing the road) and I don't feel like doing that. I'm lazy. Sorry.

Printful claims to be taking a turn to the sustainability side of our consumer culture. They are attempting to widen their eco-friendly merchandise options and make their methods also just a bit more earth conscious. Their more obviously sustainable options are their 'recycled t-shirts'- made from recycled cotton scraps and upcycled polyester rPET (essentially, fabric made from water bottles…)! A less obvious sustainable option, the one focused on in this blog, is Bella + Canvas. Bella + Canvas is one of their avenues for more 'green' oriented t-shirts.
That being said, I felt the need to research the true 'sustainability' claims of Bella + Canvas and Printful. Neither are perfect. If you happen to know of a more perfect solution to print on demand t-shirts…please do let me know. However, the two businesses are attempting to make steps in the right direction…just like a lot of us. While we all have a long way to go…the initiative and inspiration is still there. I also happened to basically (politely) interrogate Bella Canvas over email on some of their claims…they were very patient with me and answered a majority of my inquiries in a very prompt manner. Some questions, they were not able to answer. 
So! Here it is. Who will be providing William and I…and maybe a few other interested individuals…with t-shirts with trees on the tummy….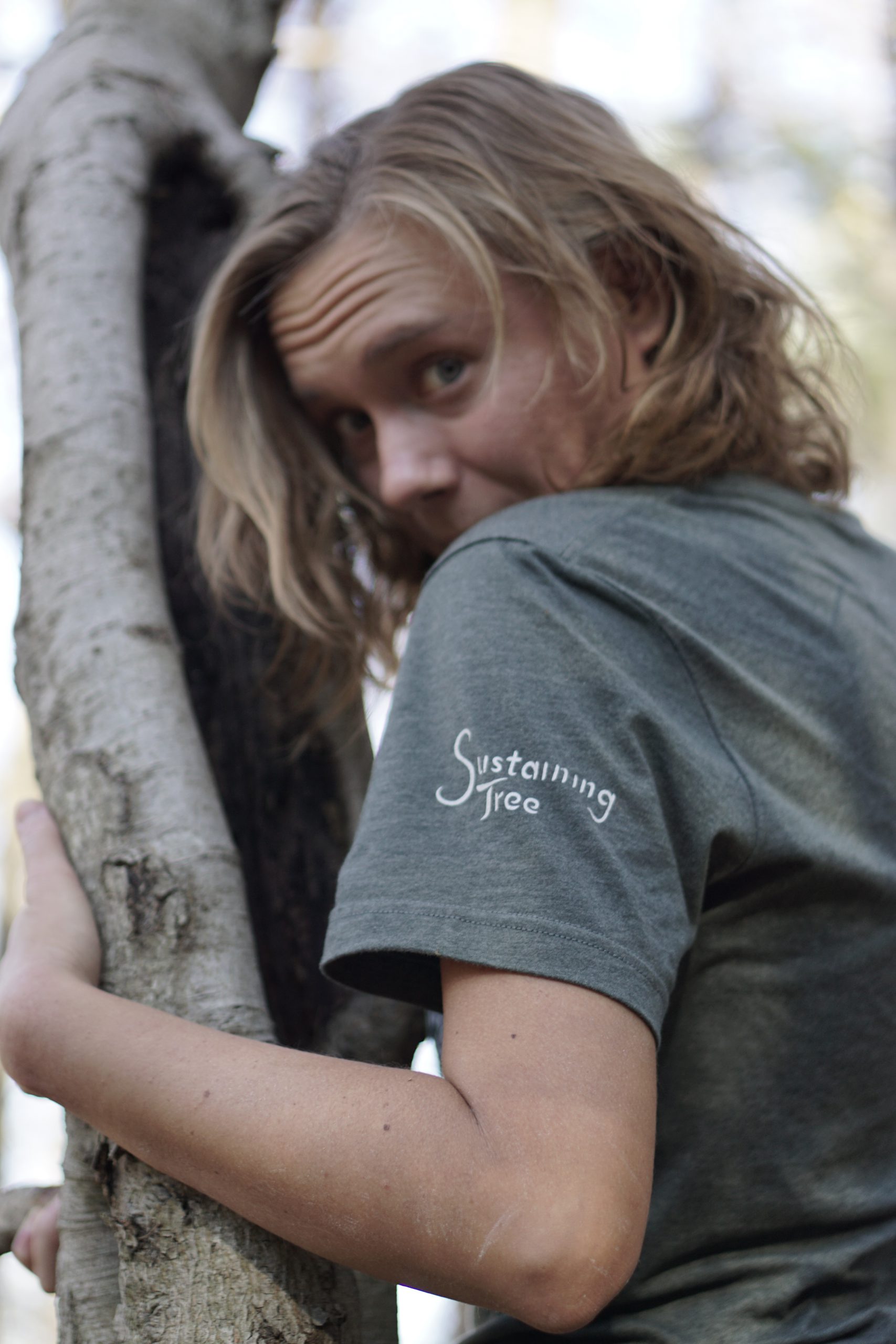 Sustaining Tree…the mystery…the drama…the wrinkles in my forehead…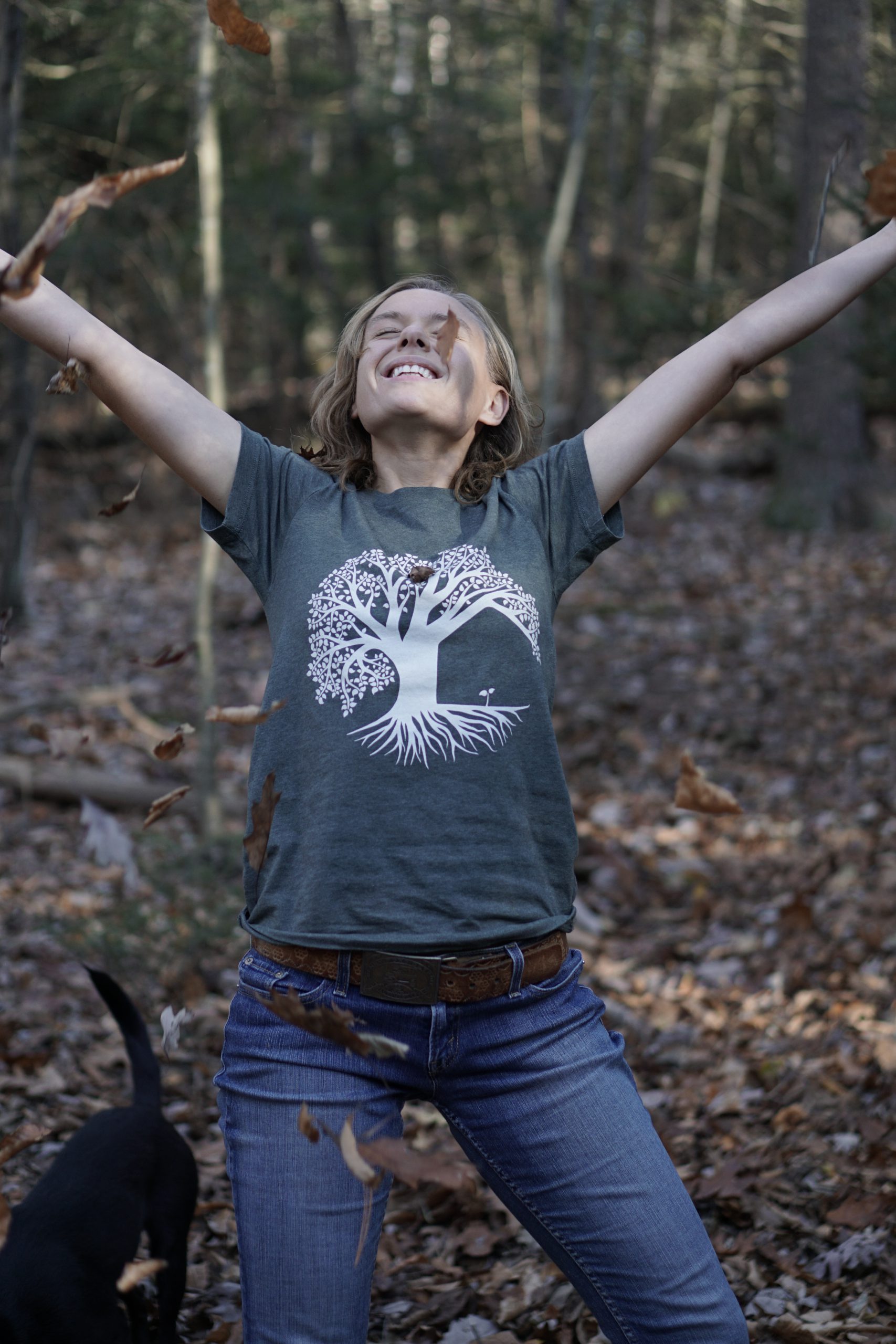 Trees do make a happy tummy!
Bella + Canvas
Step ONE: Cotton is harvested in India. Bella Canvas claims to work with mostly farmers and cotton factories that are members of the Better Cotton Initiative. The Better Cotton Initiative is a non-profit that works to promote earth friendly methods of planting and sowing cotton in countries all over the world- including the U.S. Their goals include improved soil and water quality, as well as the economic and social betterment of the cotton farming and producing communities.1
Step TWO: Cotton is spun into fabric in India. Bella Canvas also attempts to work with solely W.R.A.P certified factories in India. W.R.A.P stands for "Worldwide Responsible Accredited Production." They focus on "apparel, footwear, and sewn products sectors."2 Any factory seeking their accreditation must comply with their twelve principles: Compliance with Local Laws, Prohibition of Forced Labor, Prohibition of Child Labor, Prohibition of Harassment or Abuse, Compensation and Benefits, Hours of Work, Prohibition of Discrimination, Health and Safety, Freedom of Association, Environment, Customs Compliance, and Security. Audits of a factory's adherence to the twelve principles are unannounced and can happen at random. For factories which achieved the 'Silver' certification, audits happen at least every six months. 'Gold' certification has audits at least once a year, and 'Platinum' (the highest certification you can achieve) factories are audited "at least once every two years."3 They have a neat interactive map on their site, in which you can see what facilities in the world are W.R.A.P. certified and their certification level.4 Bella Canvas' U.S. facility is 'Platinum' certified under the parent company, Color Image Apparel Inc.
Step THREE: The fabric is then shipped to their Los Angeles' Platinum W.R.A.P certified factory, where it is designed, cut, and dyed. Their factory is solar powered. All the buildings within it are "insulated in a way that allows minimal artificial heating and cooling." 
The dye they use on the fabric is 'bluesign' certified.5 Bluesign certification verifies the limits of "chemical substances in finished chemical products such as…dyes."6 General considerations when risk assessing a product: lifecycle hazard profile, lifecycle exposure profile (human beings, environment), risk evaluation (human beings, environment), and risk management (human beings, environment).7 They also have requirements for packaging of product: "sustainability aspects (including weight/utility ratio) shall be respected in material selection, PVC is not permitted, recycled material is to be preferred, paper and cardboard should originate from certified sources or should be made of recycled materials."8 
In the dying process, Bella Canvas uses three gallons of water per pound of fabric. They use a low dye-to-water ratio, which is monitored through a digital computer system. Once the dying process is complete, the water and dye are separated. The water is filtered and then used again in the dying process. Wastewater that is generated is sent to a "water reclamation plant" in Los Angeles.9 The dye is burnt at a high temperature in a self-contained environment.10
Step FOUR: The dyed fabrics are then assembled into T-shirts. The T-shirts are assembled in Los Angeles, Nicaragua, Honduras, Guatemala or Mexico. All assembly factories Bella Canvas works with are W.R.A.P certified. Unfortunately, Bella Canvas was not able to disclose to me the names of the actual factories and facilities where the t-shirts are assembled.  
Step FIVE: The finished T-shirts are then shipped back to Los Angeles, and distributed to consumers and print on demand affiliates (Printful!). 
If you are thinking, "Hot Dang, I had no idea how intense the carbon footprint of a t-shirt was…" you are not alone. Wouldn't it be easier if we were all just naked? 
Printful
Printful is beginning to expand their 'eco-friendly' product options. So far, they offer t-shirts, tote bags, and biodegradable phone cases.11 As of now, William and I are going to solely put our name, logo, and other designs on their Unisex Premium T-Shirt 3001 by Bella + Canvas, as well as on their Unisex Recycled T-Shirt District DT8000. As we expand our research and knowledge of the environmental and social implications of various manufacturers, we shall perhaps add to our collection of Sustaining Tree items. 
As a print on demand (POD) site, Printful is considered to be more environmentally friendly than clothing vendors who print in bulk. With POD, there is no excess production, which means no burnt or thrown out clothing. Printful claims that "products only get printed when an order is placed." That way, they are only producing 'confirmed to be wanted' goods. Waste that does come from POD is typically from damaged items. Printful claims to donate "returned items to local charities and offers damaged apparel to animal shelters." Printful also minimizes having a stock overload by stocking "the most popular product variants and orders any others only when an order for it comes in."12
Printful partners with Kornit for their printers and inks. They use Kornit's Direct to Garment (DTG) printer which has a "100% waterless" digital printing process- "no pretreatments, steaming or washing required."13 The inks Printful uses are Kornit's biodegradable vegan NeoPigment inks. Their inks are water-based, non-toxic, and adhere to international sustainability standards such as OEKO-TEX standard 100 and the Global Organic Textile Standard (GOTS).14 
Printful has six operational facilities: Los Angeles (U.S.), Tijuana (Mexico), Charlotte (U.S.), Mississauga (Ontario), Riga (Latvia), and Barcelona (Spain). Your product will obviously ship to you from whatever facility is closest to your address.15  
There you have it my tree tummy loving friends. As of now, William and I will only be offering t-shirts, but the store is currently online!! It is accessible through the "Support Us" page, or you can click here.
Thanks for your curiosity and commitment to reading!
Sincerely,
Shelby Aldrich
1. Better Cotton Initiative. "BCI Principles and Criteria, Version 2.1," 1 March 2018. https://bettercotton.org/wp-content/uploads/2019/06/Better-Cotton-Principles-Criteria-V2.1.pdf. Accessed on 5 August 2020. 
2. W.R.A.P. "About WRAP," 2020. http://www.wrapcompliance.org/about-wrap. Accessed on 31 July, 2020.
3. W.R.A.P. "Frequently Asked Questions," 2020. http://www.wrapcompliance.org/en/faq. Accessed on 31 July, 2020.
4. W.R.A.P. "Certified Facility List," 2020. http://www.wrapcompliance.org/en/wrap-facilities-worldwide. Accessed on 31 July, 2020.
5. Bella Canvas. "Making of a Tee: Inside BELLA+CANVAS' Eco-Friendly Clothing Production." http://blog.bellacanvas.com/eco-friendly-clothing-production/. Accessed on 31 July, 2020.
6. Bluesign. "Downloads." https://www.bluesign.com/en/business/downloads. Accessed on 31 July, 2020.
7. Bluesign. "bluesign® CRITERIA for bluesign® APPROVED chemical products for end-consumer use, Version 3.0," March 2020. https://www.bluesign.com/downloads/criteria-2020/bluesign_criteria_chem_prod_end-consumer_use_v3.0_2020-03.pdf. Accessed on 31 July 2020. Page 3. 
8. "bluesign® CRITERIA for bluesign® APPROVED chemical products for end-consumer use, Version 3.0," Page 6. 
9. Bella Canvas. "Eco-friendly Manufacturing vs. Dirty Manufacturing," http://blog.bellacanvas.com/eco-friendly-manufacturing/. Accessed on 31 July 2020.
10. "Making of a Tee: Inside BELLA+CANVAS' Eco-Friendly Clothing Production."
11. Printful. "Custom Eco-Friendly Products." https://www.printful.com/custom/collections/eco-friendly. Accessed on 31 July, 2020.
12. Folkmane, Ilze. "Woking Towards Sustainable Fashion in the Print-on-Demand Industry," https://www.printful.com/blog/sustainable-fashion-printful/. Accessed on 31 July 2020.
13.  Kornit. "Sustainability, Waterless." https://www.kornit.com/sustainability/. Accessed on 31 July 2020.
14. Kornit. "Environmental Health and Safety-Our Commitment." https://www.kornit.com/environmental-health-safety-our-commitment/. Accessed on 31 July 2020. 
15. Printful. "Sustainability and Responsibility at Printful." https://www.printful.com/sustainability-and-responsibility. Accessed on 31 July 2020.