Why Every Project Team Needs an LFA Professional
Dear Readers,
I'll start by being honest: I, myself, am pursuing my Living Future Accreditation (LFA). So, yes, this blog is why individuals like me should be employed by architecture, design, project engineering, and construction teams. Those who are passionate about something would obviously love to spread that passion…and getting paid for it is of course a bonus.
With the admittance that this blog can simultaneously act as a cover letter out of the way, let's begin.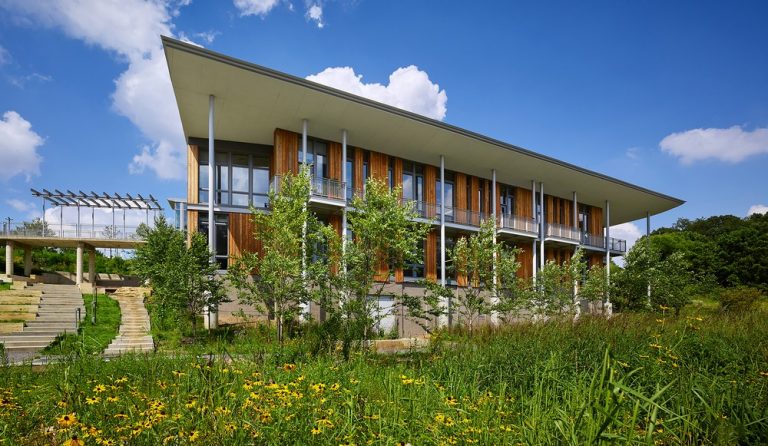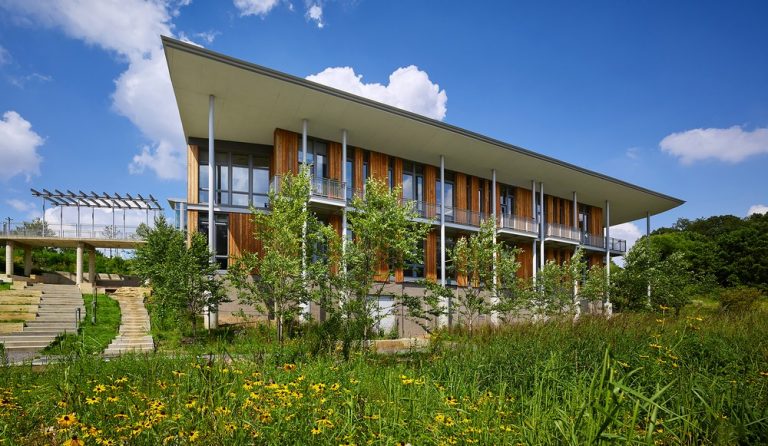 LBC Certified Frick Environmental Center, Pittsburg, PA.
Project Owner: Pittsburgh Parks Conservancy & City of Pittsburgh
Project Architect: Bohlin Cywinski Jackson
Photo Credit: Ed Massery
Why you need an LFA Professional:
1. If your firm's design ethos is to make things of quality for everyone, then you need an LFA professional. When I heard an architect say, "do we really need a ramp?" I cringed. I cringed so hard. One of the reasons that people question the need for a ramp is because their perception of human experience only includes their own. And their own human experience is what they consider to be "normal." They forget, in that brief design moment decision, that we are all only temporarily the way we are right now. The human body can change in an instant~ from internal or external factors.
That one architect's individual perspective of self, is evident in the entire build industry. Yes, the ramp was going to take some extra effort to design. Yes, it may make the cost go up. But the only reason that is, is because we are so used to not designing with ramps. It wouldn't be 'extra' if it was the standard. There are multiple ranges of human experiences. Why shouldn't all of our buildings incorporate that reality? An LFA professional will help your firm see beyond your own human experience and include all of humanity in your design ethos.
An LFA professional will also help push you to think beyond just the principles of universal design, and into how your building fits in with its community. If you are making quality buildings, they should be built to last. If they are going to last, then what cultural and social effects do they have~ in both the short term and long term? Every building we make has a myriad of footprints. But if your firm really does quality projects, then they should be making handprints as well.1 What good are your firm's creations doing? And for whom? An LFA professional will help you navigate those questions and help you make quality for all.
2. If you are throwing the word "sustainability" into your marketing, then follow through with it. An LFA professional can help keep your firm from becoming yet another hypocritical 'green washer.'
Green building is certainly where the industry is heading. With building standards increasing in rigor for efficiency,2 and a growing market demand for things that make us feel less bad about the damage we do to the planet,3 many firms are jumping on the bandwagon just to stay relevant.4 Well, relevancy is void if you are asking questions like "why can't the endangered 'fox' just move?" as you build a 'sustainable' building in the middle of said endangered fox's habitat.
An LFA will help you ask the hard questions: What does the ecology of the site look like? How can our building enhance the health and beauty of this site? What materials are we using to build our building? Where do these materials come from? What effects will these materials have both on occupant health and the surrounding environment? How are we heating and cooling our building? What does the envelope look like? Is there a way we can make the building more efficient? Possibility of solar or wind power? Rainwater collection? Why are we using potable water to flush our toilets? Is this a building that people are actually going to cherish for generations? How does this building bring people together and make them feel more connected to their surroundings? Hard questions. Yes. But doing hard, scary things tend to result in memorable and impactful ripple effects.
3. If the sustainability standards of today seem unattainable and unrealistic, an LFA professional can help you break down the 'impossible' into small, progressive steps of truly doing some good. Green building standards, like the Living Building Challenge (LBC), are hard. And, in all honesty, to achieve full LBC certification is inaccessible for a majority of project owners. While that's what makes it a challenge…because it is fundamentally regenerative…some people still want to do good, but understandably within their means. An LFA can help your firm look at a project, and see what handprints, what good, you can do within the project's scope and budget.
Some examples:
~If solar panels are not possible, then what can you do to make your building as efficient as possible with the energy it does use? Apply Passive House techniques? Look at the appliances and lighting? Install the ability to go solar if it eventually does become an option?
~Or, what if your state's DEP doesn't define the difference between greywater and blackwater, therefore making an outdoor greywater garden not only impossible, but also illegal, for your project? What else can you do that is within your monetary means and legal requirements? What DEP approved greywater treatment options are out there for interior water reuse? The Hydraloop for your laundry and toilet flushing? The Orbital Shower?
There are plenty of ways a building can be, well, less crappy. More resilient. More efficient. Healthier for the occupants and the land it sits on. And even if you are not striving to achieve a specific building standard, an LFA can help you go beyond just building a "less crappy" building, and dive into what bits and pieces of good can you and your building give to the surrounding communities and ecologies of the site.
 ~
IF this blog ever translates into a professional cover letter, then I can of course think of a more creative adjective than "crappy." But, until then, I hope this gave thoughts for you to ponder! And, if you know of a firm in need of an LFA, I should be accredited soon! 😉
Thanks for reading!!
1. Put in super simple terms, a 'handprint' is the opposite of a 'footprint.' If a footprint is the harm we bring to the earth because of our influence, interaction, and very existence…then a handprint is the good we bring to the earth because of our influence, interaction, and very existence.
2. Some examples of individual cities and states that are enacting more stringent code requirements…
New York City: Yancey, Richard. "New York's Path to Scaling up Passive House." Passive House Accelerator, 1 March 2019, https://passivehouseaccelerator.com/articles/new-york-s-path-to-scaling-up-passive-house. Accessed 12 Jan. 2022.
District of Columbia: Department of Energy & Environment. "Green Building Act of 2006," DC.gov, 17 Dec. 2021, https://doee.dc.gov/publication/green-building-act-2006. Accessed 12 Jan. 2022.
Delaware: University of Delaware. "Green Building Practices- State Policy and Legislation, Codes," Complete Communities Toolbox, https://www.completecommunitiesde.org/planning/sustainable/green-building-practices/. Accessed 14 Jan. 2022.
Not a requirement, but certainly an incentive to build sustainably…Seattle, Washington: Torgelson, Nathan. "Living Building Pilot- Overview," Seattle Department of Construction & Inspections, https://www.seattle.gov/sdci/permits/green-building/living-building-pilot#:~:text=The%20Living%20Building%20Pilot%20Program%20is%20part%20of,buildings%20produce%20over%20one-third%20of%20our%20greenhouse%20gases. Accessed 14 Jan. 2022.
3. Etee, Grove, All Birds, Last Object
4. Only 311 of the 682 signatory firms for the AIA 2030 Commitment – a pledge for designing and building carbon-neutral buildings only –  even submitted the required data, and only 27 of those firms met the 2030 Commitment's performance thresholds: Gonchar, Joann. "Profession Must Zero in on Carbon to Meet 2030 Climate Goals," Architectural Record, 30 Nov. 2020, https://www.architecturalrecord.com/articles/14884-profession-must-zero-in-on-carbon-to-meet-2030-climate-goals. Accessed on 12 Jan. 2022.